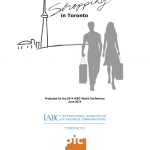 Earlier this year, I mentioned working on a Toronto shopping guide, intended for people coming to this year's IABC World Conference. With the guide, visitors get the inside scoop from local IABC members on where to grab a gift or specific item close to the conference hotel.
Drumroll, please. The guide is done! You can download the Toronto Shopping Guide-2014 here.
Thanks to my "shopping consultant," Christina Wong, and graphic designer Teri McMahon, R.G.D., for helping pull the guide together. If you use the guide and make any fabulous discoveries or have anything else to share about it, please let me know in the comments below.