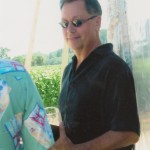 In the end, my big brother had less than a year to live from the first signs that something was going wrong. Gallstones, maybe? No. Colon cancer, which had already spread to his lungs and liver. He was 61.
Don moved to California years ago, and being on opposite sides of the continent didn't support frequent visits. So I'm glad that over the years, many an IABC conference was held in San Francisco, Anaheim, Los Angeles or San Diego. Each time I booked the conference, my next call was to Don, to find out how I could work in a visit. (Okay, sometimes it was the reverse: Don first, conference second.) Each time, we got together, in later years with his soulmate and partner, Dawn.
Don was a generous and thoughtful guy.
This is the man who bought me my domain name long before I was even thinking about a website for my business. He would turn up at my door during visits home with bottles of wine in his backpack, eager to share his latest tasty cabernet "finds." He made sure his nephews were the first on our block to have an iPod, and over their video-playing years, they always got their hands on the latest hard-to-find games thanks to Don. A few times, he used his United Airlines points to upgrade a flight for one of my visits, and Marriott points for a wonderful Sonoma Valley wine-tasting trip.
Just last month, as ill as he was, he asked me to reserve a date in June; he had bought me tickets to a concert in Toronto by his fave Dave Matthews Band. When I asked him why, he said, "Because I can't go."
One of Don's last and most significant gifts to me was to make sure I stopped procrastinating and got screened for colon cancer. I just had the procedure two weeks ago, and the doctor found and removed a small polyp; I am good to go for another five years. (Thanks, Don!) If you're in that dangerous Baby Boomer age, or if you notice even small changes in your health, make sure YOU get screened, too.
Maybe the best gift Don gave his family and friends is a sharp reminder to live our lives. There is a famous quote from artist and author Mary Anne Radmacher that sums up the way I think Don lived his life. It's this:
"Live with intention.
Walk to the edge.
Listen hard.
Practice wellness.
Play with abandon.
Laugh.
Choose with no regret.
Appreciate your friends.
Continue to learn.
Do what you love.
Live as if this is all there is."
I will remember my funny, generous, thoughtful, tech-savvy and much-loved brother as he looks in the photo here, a smile on his face, a glass of Silver Oak wine in hand, sharing good times with friends and family.
Related posts:
Why you need balance (goodbye to my best friend, also due to cancer, with a wonderful analogy about work as a rubber ball)
I've also said goodbye to my sister.