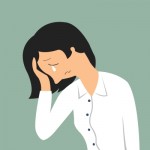 Any writing can be improved by careful attention to words that convey meaning or emotion, or metaphors and analogies that bring a concept to life. The July issue of my newsletter, Wordnerdery, shares some wonderful examples of expressive writing I've found related to grieving and loss. It's way less depressing than you might think! Here's an example:
(Offering condolences) "…brings death into the day, and at this age death feels like it's a car length behind, anyway."
– Delia Ephron in Sister Mother Husband Dog
Wordnerdery is a quick read about words, effective/expressive writing, newsletters and more. Are you a subscriber? If yes, thanks for reading! If not, you can sign up here. In keeping with Canada's new anti-spam laws, you can easily unsubscribe any time.
Image: Crying woman by "jesadaphorn" and FreeDigitalPhotos.net.