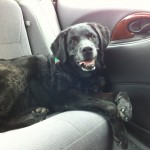 Jake was our first dog. He'll probably be our last dog, too.
Long before we got our black Lab, I was already imagining the pain of saying goodbye to a treasured member of the family. Our youngest son was just 10, so I figured by that time, he would be old enough to handle it. There was no question I would never handle it; not well, anyway.
The end was quick, although looking back, Jake had been failing for some time.
He no longer ran to the door to greet visitors or even family, allowing them to come to him ("the Dogfather" and "the Little Prince," we called him).
He didn't hang out with us in the dining room while we had dinner any more. He didn't eat his own dinner with his former gusto.
He seldom rooted through his toy basket looking for something to chew, or lounged at my feet while I read in the living room or worked in my office.
He had a hard time jumping up into the car, so didn't come for the rides he used to love any more.
He had difficulty on the stairs, and his back legs gave out if he stood for too long.
He was slow as a turtle on our walks.
Still, he was always game for a walk, rain or shine. He was the unofficial mayor of the neighbourhood, eager to greet the special friends who made a fuss over him or gave him cookies, or even anyone who had a garage door open. He loved to sit in the shade under the tree at the front of our house, sniffing the breeze and surveying his kingdom. He kept me company in my home office during the day, and slept near my side of the bed at night.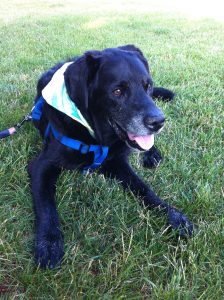 He was almost 14 years old, but it was unimaginable that he would leave us some day.
Some day was last Friday.
He never minded going to the vet's, but once inside he was always nervous someone would try to take his temperature (a long memory, held since he was a pup). So I'm grateful the end didn't come in an animal hospital or the vet's office, but at home. I'm grateful it didn't take days, but hours. I'm grateful we didn't have to make a decision to put him to sleep, but that he went on his own terms.
I read somewhere that dogs help people (especially boys) express affection, and I think that is true. Patting a dog is also supposed to be calming; again, true. Jake also did a good job of reminding me to live in the moment. He made sure I got my exercise. He was the ice breaker who introduced me to people on the street. He was the poster boy for unconditional love and loyalty. Most recently, Jake was teaching me about patience — boy, was he teaching me about patience – on our slow walks down the street.
Goodbye, my treasured furry friend. I will miss you.
Related posts:
10 things we can learn from dogs
Some thoughts on loss and people who tell you "it's just a dog"