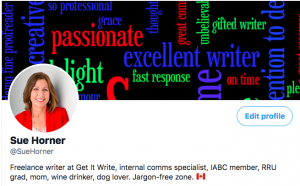 "Award-winning writer. Organizer. Thinker. Travel fan. Food enthusiast. Evil explorer. Creator. TV specialist. Communicator."
This was a sample Twitter biography helpfully provided by the Twitter Bio Generator. Have you seen it? I ran across this tool recently (sorry, can't remember where) and ran a couple of samples for fun, to see what it would suggest for me.
After noticing frequent mentions of bacon, alcohol and coffee —  not to mention the "evil explorer" in the sample above — I realized the bios had nothing to do with my own tweets. It turns out creator Josh Schultz (as quoted in the Mashable piece below) "included bits that could describe practically anyone on the Twitters, and threw in a few silly things, for flavor."
Ahem. Write your own bio, please!
Along with a clear, professional and appropriate photo, your bio is a key part of your online presence. It will turn up in searches, so it's important for search engine optimization. People will often decide to follow you or not based on how you describe yourself, as well as the type of tweets you share. And including your interests and passions lets you connect with people who share them.
Twitter says your profile should "reflect your personality" to anyone who might follow you.
Mashable agrees that your bio "should represent the real you," acknowledging that "it's certainly a skill to distill the essence of your complex, multifaceted personality (or so we'd all like to think) into 160 characters."
Hubspot has a roundup of tips, including keeping the bio fresh, using keywords and paying attention to spelling and grammar (hear, hear!).
My own bio mentions the work I do (writing, internal communications, that it's jargon-free), my main professional association (IABC), school (Royal Roads, or RRU), and personal tidbits (that I am a mom, a wine drinker, a dog lover and proud Canadian). The background also includes nice things clients have said about me. What does your bio say about you?
Related posts:
Updated March 2021.