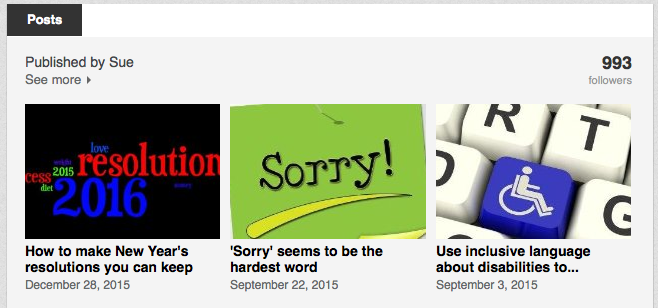 "LinkedIn has become the fish wrap of the Internet."
That statement by Nick Corcodilos on the Ask The Headhunter blog made me laugh, but it also serves as a warning. If you've jumped on the LinkedIn Publishing bandwagon, make sure your articles have value.
According to LinkedIn, nearly two million members are now using its publishing platform, posting more than 150,000 articles a week. The result is an update stream that is a tidal wave of people publishing articles. You barely have time to scroll through a few updates and 20 more appear, kind of like Twitter.
In his blog post, Nick says he thinks LinkedIn "reaches for quantity over quality and sells the idea that anyone can be an expert." He adds, "The entire purpose of LinkedIn's publishing platform seems to be building its page count and driving comments – not to create an expert arena."
So if you don't want your articles to be the fish wrap of the Internet, here are some suggestions:
Publish when you have something valuable to share with LinkedIn members, says Hubspot. "In general, the more long-form posts you publish, the more credibility you will build, and the stronger your professional profile will become."
Start a conversation, advises LinkedIn Executive Editor Daniel Roth.  He applauds those who "discuss the future of work, the state of their industries, what companies are getting it right and which aren't and how the professional world can be a better place."
Keep it concise, and don't bombard your network. Social Media Examiner suggests aiming for 300 to 600 words, and cautions, "Some people are going nuts with Publisher, publishing several articles a week. That's probably too much."
Be helpful. In another post, Daniel says, "Use the details from your life to help others be better in theirs. Share your big ideas about how to reshape the economy or about what disruption is coming next (and why everyone is missing it)." Note that he recommends writing 800 to 2,000 words. Too long, in my opinion.
Share your blog posts with a new audience. Hootsuite's Evan LePage says, "This is a great way to breathe new life into old content, and to point LinkedIn followers back to other owned properties using calls to action."
Remember that online readers are browsing and scanning. Get to the point. Use clear headings and break up the text with subheadings, short paragraphs, short sentences and short, familiar words.
What else would you suggest for breaking through the LinkedIn noise?
Confession: I complained about the noise this causes about this time last year, although I have repurposed a couple of blog posts and newsletter topics. This post itself could be a LinkedIn article, don't you think? 🙂