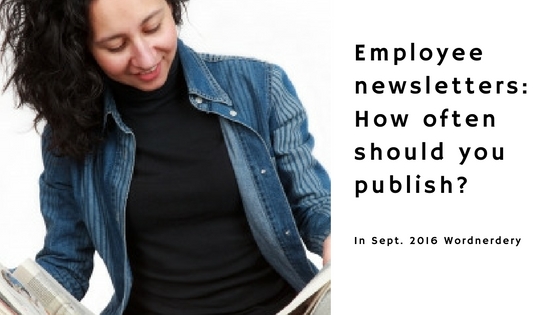 In this month's newsletter, I'm revisiting a common question: How often should you publish an employee newsletter?
A lot depends on whether you're delivering news or providing background and perspective, how big it is and how many people are working on it, and how long it takes you to produce a quality publication.
Some colleagues and clients have reduced the frequency of their publications to save money.  I always suggest companies cut the length or frills of a publication before cutting the frequency.
With a weekly, people are more likely to notice your absence. Monthly, less so. Quarterly? People don't really know when to expect you, although communications evangelist Steve Crescenzo supports quarterly if you don't have time to turn out a quality publication every month.
An email exchange about this prompted my original post about frequency in 2012. Although I usually like to provide original content in my newsletter, Wordnerdery, I thought it worth revisiting with current perspectives and new resources in the September issue of my newsletter.
What do you think? Weekly, monthly, quarterly? Do you even have an employee newsletter?
Wordnerdery is a quick read about words, effective/expressive writing, newsletters and more. Are you a subscriber yet? If yes, thanks for reading! If not, you can sign up right now. In keeping with Canada's anti-spam laws, you can easily unsubscribe any time.
Image: "graur razvan ionut" and FreeDigitalPhotos.net.
Save
Save
Save
Save