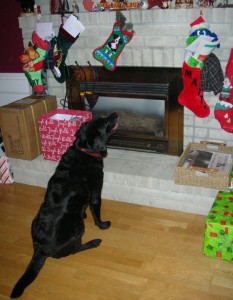 All this week, Facebook has been showing me festive photos I've posted in previous years. My dog staring longingly at my older son's Christmas stocking, shown here, is a classic.
In the December issue of my newsletter, Wordnerdery, I share what Jake and letting go of the stocking have to teach us about living in the moment.
Wordnerdery is a quick read about words, effective/expressive writing, newsletters and more, including the occasional ponderings on the meaning of life. Are you a subscriber yet? If yes, thanks for reading! If not, you can sign up right now. In keeping with Canada's anti-spam laws, you can easily unsubscribe any time.
Save
Save
Save