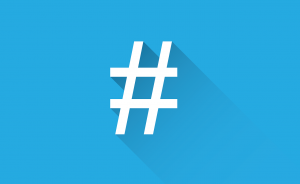 For people on Twitter, Facebook, Instagram and other social media, hashtags – words or phrases tagged with what used to be called the pound sign (#) — are a handy way to search for topics of interest. Companies use hashtags to try to connect with customers and fans, increase brand recognition and encourage interaction.
Where do you find hashtags? They began with Twitter and are most often used on there and on Instagram. Some people use them on Facebook and Pinterest, but the only place I see them on LinkedIn is to help categorize published articles. (Marketer Darren Faber has a post on LinkedIn that describes hashtag use in various platforms.)
Why use a hashtag? Hashtags help gather comments into categories. I sometimes look at what people on Twitter are saying about #newsletters, for instance, or I might tag my own posts with #writingtips or other appropriate categories. Glean Info reports that tweets with hashtags get twice as much "engagement" and are 55 percent more likely to be retweeted. Hootsuite says Instagram posts with at least one hashtag average 12.6 percent more engagement than those without.
As with anything promising "engagement," abuse is everywhere. I have to admit this post is inspired by someone who uses #way #too #many #hashtags on Twitter, and another who auto-posts hashtag-filled Twitter comments to the generally hashtag-free LinkedIn.
So herewith, my own and others' suggested dos and don'ts for using hashtags properly:
DO:
DO click on a hashtag within a message to see what people are talking about. Especially do this to see if people are already using the hashtag you're thinking of, and if it means the same thing you do.
DO keep it short and simple, using the most important word. Manpreet Kalra, who calls herself a Digital Marketing Superhero, says, "#LongHashtagsDrivePeopleCrazy: Don't do it." Instagram may be a little different; I find people often create long hashtags here that make a funny statement. Even though Instagram allows up to 30(!) hashtags, Co-Schedule says "keep it around 5-10 so you don't come across as spammy."
DO be specific and name names rather than use generic terms. Using #travel, for instance, applies to too many things. Refer to the destination or type of travel, like #Hawaii or #SkiVacation.
DO use capital letters to make your hashtag easier to understand, like IABC's #CommChat for its Twitter chat about communications.
DO use hashtags within the message if appropriate rather than repeating a word, as in "The @IABC #CommChat was all about #podcasting."
DO invite followers to connect with your brand by using specific hashtags. Nike uses #justdoit. Herschel Supply started #WellTravelled for an Instagram campaign encouraging customers to tag photos where they're using Herschel products.
DON'T:
DON'T use too many hashtags in one message, especially on Twitter. It's annoying, and using more than two actually drops engagement. Social Media Today suggests three tags or less on any social channel "or you'll look like a spammer." Plus too many hashtags makes your comment hard to read.
DON'T automatically cross-post Twitter messages full of hashtags to LinkedIn, which doesn't use them on status updates. Take a few minutes to write a new message just for LinkedIn.
DON'T piggyback on trending hashtags unless it makes sense. See why trying to hijack a trending topic can go wrong.
DON'T use hashtags that aren't relevant just because they are popular. #Love, for instance, is one of the most popular hashtags on Instagram, but a business using it will look spammy unless it's truly relevant.
For a laugh, check out Jimmy Fallon and Justin Timberlake making fun of hashtags.
What have I missed? What hashtag abuse bugs you? Do share in the comments!
Some of my other opinionated posts with dos and/or don'ts about:
Captions
Storify
Newsletters
Save
Save
Save
Save