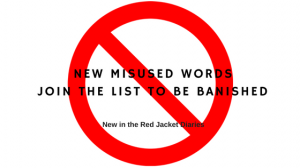 Post-truth, on fleek, Dad bod and listicle are among the terms that made the 42nd annual list of words and phrases the wordsmiths at Lake Superior State University in Michigan want to banish for "Misuse, Overuse and General Uselessness."
Distressingly, making the list does not, in fact, banish awful jargon and overused terms. The hated utilize made the list in 1987 and win-win in 1993, and you still see both everywhere corporatespeak thrives.
The tradition began with the late W. T. Rabe, then a PR director at the university. At a New Year's Eve party, he and other LSSU faculty and staff came up with the first list of their own pet peeves, which they published on Jan. 1, 1976. Among the first on the list were macho, scenario and at this point in time.
Since that first list, word nerds have joined the fun, nominating tens of thousands of words and phrases. The words are always released on New Year's Day, traditionally a slow news day.
Among this year's winners, on fleek is one of my own pet peeves. Where it once apparently meant perfectly groomed eyebrows — something I did not know, perhaps because I don't have them — now it refers to anything that is on-point (another annoying term), perfectly executed or looking good.
This year, politics gave us post-truth (also named 2016's word of the year by Oxford Dictionaries, and describing a situation "'in which objective facts are less influential than appeals to emotion"); and bigly (a real 19th-century word that means in a swelling blustering manner, and which Donald Trump may have said; or did he say big league?).
Dad bod is a term that got thrown around a lot last year, describing the "flabby opposite of a chiseled-body male ideal." Nice.
Listicle is another term for the use of lists in articles and blogs, launched with headlines like "7 ways to create an awesome listicle." Nothing wrong with using the word list, thank you.
I actually kind of like ghost, a term used when someone suddenly stops communicating with you, usually on social media.
See the archives here, check out previous words or submit your own.
What word would you nominate for the next round?
Related reading:
For fun, The Detroit News turned the 2016 banished words into a crossword puzzle
Selfie topped the 2014 list
Save
Save