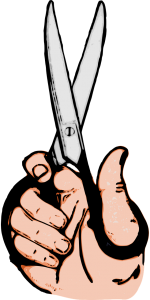 The fellow I interviewed was chatty; the topic, fascinating. The problem? Cramming as much of that interesting conversation into just 300 words.
My clients often have a specific number of words they need to fit a certain space. Magazine and newspaper editors also assign a certain number of words and may not work with you again if you don't meet their requirements.
So while you're spinning straw into gold (as I call turning raw notes into interesting reading), here are some tips for cutting words to meet your assigned word count:
Write first, edit later. Write the detail you think needs to be included, then check your word count and edit as necessary. I sometimes check partway through the first draft to gauge how much detail I can include.
Ditch most adjectives and adverbs, and use a stronger noun or verb instead. "He sat dejectedly" becomes "He slumped."
Eliminate prepositions, says Barbara Diggs, The Expat Freelancer. You can easily get rid of words like "of," "in" and "at." For example, "She preferred to stay

at

home."
Use contractions. "He's" instead of "He is" saves a word, plus it sounds warmer.
Remove weak filler words, like "very," "really" and "the fact that," says BitesizeBio's Kristin Harper.
Look for places you have said the same thing in different ways. Only keep the best one.
Get rid of "that." It's "sometimes so superfluous

that

it can easily be gotten rid of," says Devyani Borade on Writing-World.com.
Use the active voice rather than the passive voice. "The leader is spotlighting the issue" rather than "The issue is being spotlighted by the leader."
Eliminate redundant words and passages, says freelance writer Jesse Hines. He gives examples like "The

armed

gunman" and "

Past

history."
Suggest a sidebar — a short article beside the main one that includes  additional details that are interesting but not essential to the story. For a piece for Niagara Escarpment Views magazine about community gardens, I included a sidebar for the curious about the typical items grown.
If the article includes a photo, use the caption to include interesting information edited out in #1.
What other tips do you have for trimming (or slashing!) a lengthy article? Please share in the comments.
Image: Scissors from Pixabay.