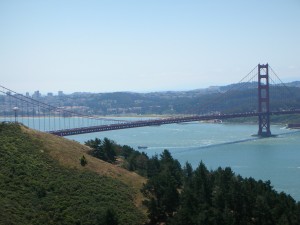 Do you want to explain something, make a point or reflect or spark emotion? Reach for what I call expressive language, which shows rather than tells.
I'm always on the lookout for examples, and here are some appealing ones:
"Catherine was his California – she was his sunlight and wine and blue ocean – but a strain of madness ran through her like a fault line." – Giles Blunt, Forty Words for Sorrow
"[The two so-called lovers in the movie Fifty Shades Darker] generate less wattage than a small appliance bulb, a huge problem for a franchise built on sparks and shocks." – Movie critic Peter Howell in the Toronto Star
"Being a mother yanks our hearts out of our bodies and attaches them to our tiny humans and sends them out into the world, forever hostages." – Shonda Rimes, Year of Yes
"Much of [the record] has [musician Phil] Elverum doing things like wandering the house, opening and closing windows, taking out trash, watching a child sleep — all under an anvil of grief that keeps him from wanting to make art, symbols or sense out of any of it." – Nitsuh Abebe in The New York Times Magazine (pointed to by my friend Jeanette King; thanks!)
"For a time, [the queen] will be gone without our knowing it. The information will travel like the compressional wave ahead of an earthquake, detectable only by special equipment." – Sam Knight in The Guardian, about the secret plan for the days after the Queen's death
"There were so many birds the sky rattled, so many fish the bay boiled like a pot." – Annie Proulx in Barkskins, as quoted in The New York Times Sunday Magazine (also shared by Jeanette)
What wonderful examples of expressive writing have you seen? Please share in the comments. I'm always adding to my collection!
Photo: My own picture of San Francisco's Golden Gate Bridge.