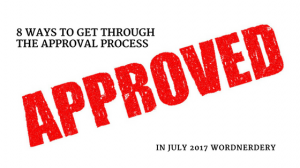 Sometimes, it takes longer for people to read your words than you took to write them. I'm talking about the abyss called the "approval process," which swallows your articles, reports, web copy and other writing that will – eventually – appear in public.
This is fresh in mind after I received an online newsletter with an article I wrote two months earlier. "The approval process," the client explained.
The July issue of my newsletter, Wordnerdery, has eight tips for getting your writing through a painful approval process.
Not to give away the goods, but the top tip is "Don't call it an 'approval' process." Call it a review or ask people to "fact-check," so they know you want them to correct errors, not wordsmith. Read the July issue for seven more tips that may help get your writing through approvals reviews.
Wordnerdery is a quick read about words, effective/expressive writing, newsletters and more. Are you a subscriber yet? If yes, thanks for reading! If not, you can sign up right now. In keeping with Canada's anti-spam laws, you can easily unsubscribe any time.