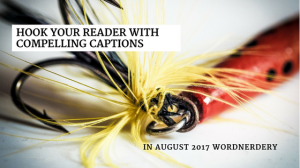 Words are my business, but I realize that a stunning photo or clever infographic can often make a point faster than plain text.
The August issue of my monthly newsletter, Wordnerdery, shares tips for writing effective captions (also called cutlines) that hook readers and pull them into the story once the visual has caught their attention. For example:
DO go beyond stating the obvious to give context. Use some information from the article to explain what's going on or why.
DON'T say someone "looks on" or "is shown" or "is holding" something. Readers can see that; they want to know, why or what's the point?
DO write short, snappy sentences. "Like headlines, captions must be crisp," says the Canadian Press. "Like stories, they must be readable and informative, interesting and lively."
DON'T try to cram every speck of information into one long, boring sentence.
Read more in the August issue. Are you a subscriber? If yes, thanks for reading! If not, you can sign up right now. Wordnerdery is a quick read about words, effective/expressive writing, newsletters and more. In keeping with Canada's anti-spam laws, you can easily unsubscribe any time.