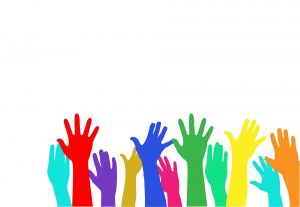 Hands up if you volunteer! Hey, good for you – and good for the organization you're helping.
Much of the work in associations, schools and other groups only gets done if volunteers tackle it.
In fact, if you find yourself grumbling, "Why doesn't this group [do something]," that's a clue to a missing service or option a volunteer might be able to provide. And – hint! – it's a clue that maybe you could help.
But don't think the value is all one way.
The benefits of volunteering are many:
You'll get to practice skills like leadership, team-building, time management and creativity as you do a good deed.
You'll make new friends, grow your network and strengthen connections with colleagues.
You'll demonstrate your talent and reliability and gain more visibility, which is especially valuable if you're an independent communicator or looking for work.
You can learn new skills or hone your existing skills at something you're already good at or feel passionate about. I have a particular fondness for communication, and over the years have showcased my writing and newsletter work, both print and electronic, as a volunteer for IABC/Toronto's independent group, now called Professional Independent Communicators, and the now defunct Halton-Peel Communications Association.
Many indies get work through referrals and repeat business, and as I've blogged before, referrals are like magic in helping you diversify.
But for people to be comfortable referring you, they have to be confident that (a) you have the skill and talent to do the work, and (b) you can be trusted to meet deadlines. Volunteering is a way to prove yourself in both areas.
Sure, sometimes it can be a little hectic trying to fit the volunteer work in with paying work, family and friends, but life is already a balancing act, isn't it? I find it all works out, and maybe all you have to "sacrifice" is time in front of the television.
So if you don't already volunteer, I encourage you to try it. You'll be glad you did.
Do you volunteer? What benefits have you found? Please share in the comments.
Image: Kaz and Pixabay.com. A version of this post first appeared in 2012.