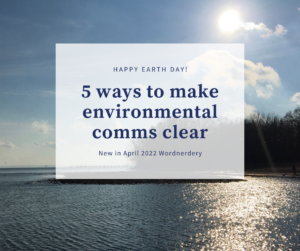 What can one person do to "invest in our planet," the theme for Earth Day 2022?
I was pondering that while out picking up garbage and recyclables to mark Earth Day. Even though I picked up a bag of each, you'd be right to suspect there will be another flurry of discarded masks, coffee cups and neatly packaged dog poop on the trails next week. But I've made a small difference.
And that's the idea. Look around and find some way you can make a difference, however small.
If you work in communications, here's one way you can make a difference: If your organization wants to talk about its environmental work, help them publish something readers will understand.
"Understandable" is not a given. The typical report – whether environmental, social and governance (ESG) or corporate social responsibility (CSR) – is thick with words like "mitigate" and "utilize." They talk about complex subjects like "decarbonization" and "inhalable particulates." And they often try to cram too much information into too many lengthy sentences.
The April issue of my newsletter, Wordnerdery, has five ways to make these reports easier to read and understand. You know me; "Use short, familiar words" is one of them.
Wordnerdery is a quick read about words, effective/expressive writing, newsletters and more. Are you a subscriber yet? If yes, thanks for reading! If not, you can sign up right now. In keeping with Canadian and American anti-spam laws – and just plain good manners – you can easily unsubscribe any time.