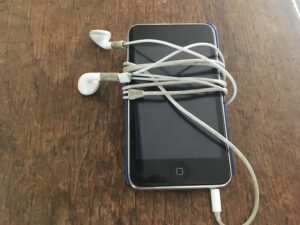 The music may live on, as Apple says, but not the devices many of us relied on before streaming music services showed up.
Yes, Apple has finally discontinued the iPod. It's not surprising, of course. What other technology from 2001 is still around?
Kids, this was revolutionary at the time: It was the first MP3 player to hold 1,000 songs ­– your whole music library, as Steve Jobs memorably put it – in a device small enough to fit in your pocket. What a concept! I remember the thrill of not having to choose a couple of CDs to bring on a trip (or of worrying about bringing an empty jewel case, which happened more than once).
Over the years, Apple introduced more than 10 models, most recently in 2019. It sold its 100 millionth iPod in 2007, and hit 300 million in 2011. Cult of Mac says Apple eventually stopped reporting iPod sales, but guesses they hit more than 400 million.
I still have a beat-up old iPod Touch (seen above) that comes on my daily walk. Yes, with the beat-up wired headphones. My husband laughs at me and asks, "Why don't you just listen to Spotify?"
I could listen on my iPhone, of course. But I have all this music I bought or transferred from CDs over the years, and I like leaving the iPod on shuffle to see what comes up next. Also, it doesn't punish me for opting to skip a bunch of tunes in a row if I'm just not feeling them. (Ahem, Spotify.)
The IPod Touch came out in 2007, so yes, this is ancient tech. We've changed our Wi-Fi password multiple times and it's not updated on this unit. That may explain why the iPod says it's 11:48 p.m. on Friday, January 9, 1970 when I was writing this at 5 p.m., Thursday, May 12, 2022. The 70s must be its happy place, as it resets to that when I recharge the battery.
These days, few people want a single-use device, but I only ever use my iPod to listen to music. Right now, there are 994 songs (cut down at some point after noticing too many "skips"). Apple helpfully tells me this is good for 2.9 days of non-stop listening.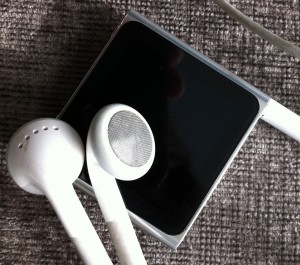 I used to have an iPod mini as well, which I see was introduced in 2004. I loved it. I carried it in a case that clipped to a belt loop, since the pockets on women's clothes are often miniscule or non-existent.
At some point, Apple recalled the battery and I sent my iPod in, expecting to get it back with a new battery. Instead, they sent back the version shown here, which didn't fit the case and didn't win my heart. Eventually, its buttons stuck and it became unusable.
Was that when I got the iPod Touch? Or just when I returned to it? I don't know. Either way, it's ancient history.
It's only a matter of time before my old iPod Touch expires. I'll be a little sad, but I'll let it go. My plan is to add it to our Tech Hall of Fame, which is anchored by my youngest son's first iPod – a gift from his tech-savvy Uncle Don that sadly went through the washing machine. (Always check pockets!) Don ordered it online and opted for the free engraving, but Apple would not let him use the word "damn." Thus it says "Yer DANG RIGHT this is CORY'S IPOD!"
Apple is right that the iPod "redefined how music is discovered, listened to, and shared." But, change and tech move on. What's next?
Do you have an iPod lying in a drawer somewhere? Do you still use one? Tell me I am not the only one!