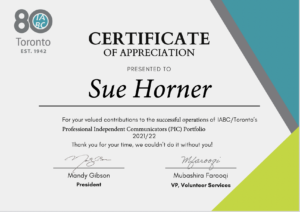 Volunteering can sometimes seem invisible, but it's so important to running organizations like the International Association of Business Communicators (IABC). And never think what you do as a volunteer isn't noticed, even if you certainly can't be in it for the "glory."
National Volunteer Week wasn't really on my radar until two certificates landed in my in-box. Both recognized volunteer work I've been doing for IABC's Toronto chapter.
Much of the work in associations like IABC, schools, non-profits and other groups only gets done if volunteers tackle it.
In fact, if you find yourself grumbling, "Why doesn't this group…," or "Why don't they…," that's a clue. There may be a missing service or option a volunteer might be able to provide. And – hint! – it's a clue that maybe you could step in and make a difference. That's what happened after wishing I could find out what people learned at IABC events I couldn't attend.
But don't think the value is all one-way. These are just some of the benefits to you when you volunteer, which I only realized after I started volunteering:
1. You'll feel good about making a difference.
2. You'll get to learn and use skills like leadership, team-building, problem-solving, time management and creativity as you do a good deed.
3. You can show and hone your existing skills at something you're already good at or feel passionate about. For instance, much of my volunteer work with IABC includes writing and clear communication, which is what I do.
4. You'll make new friends, grow your network and strengthen connections with colleagues.
5. You'll demonstrate your talent and reliability and gain more visibility, which is especially valuable if you're a solo communicator or looking for work.
6. You can earn referrals and repeat business by showing through your volunteer efforts that you have the skills to do the work and can be trusted to meet expectations. And as I've blogged before, referrals are like magic in helping you diversify, so all your client "eggs" aren't in one basket.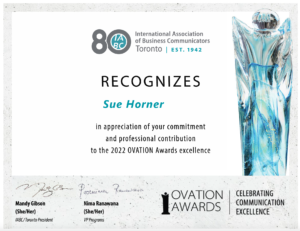 Sure, sometimes it can be a little hectic trying to fit the volunteer work in with paying work, family and friends. But maybe you just need to "sacrifice" time in front of the television. Or start small and offer a defined piece of work that's manageable within your existing life.
If you haven't volunteered before, think about it. Certificates are nice, but the real reward is giving back and making a difference. And chances are you'll make a difference to your own life, too.
Do you volunteer? What benefits have you found? Please share in the comments.
A version of this post first appeared in 2012.