Last week, IABC members received a short email from the chair of its International Executive Board with the subject line "IABC Leadership Changes." Within the email are two classic bits of corporate speak: Two people "are no longer with the association" and "We wish them every success in all their future endeavors."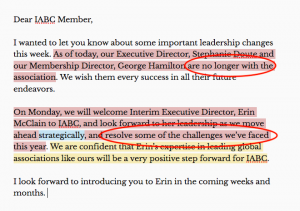 The Hemingway app says the readability of this message is good, although one sentence is flagged as hard to read (in yellow) and two are very hard to read (in red). What the app doesn't address is the jargon and lack of explanation of what's going on behind the departures.
The Executive Director and the Membership Director are pretty high up the IABC food chain, so their departure wants a bit of explanation. Instead, we learn that an interim person is coming in, and her leadership and "expertise in leading global associations like ours" will presumably "resolve some of the challenges we've faced this year" as we "move ahead strategically" (whatever that means).
As an IABC member, I'd like to know why these two people left the organization. Were they fired for a lack of expertise in leading a global association? Did they leave on their own? Are they setting off together to start their own association? We have no idea.
There is no mention of what IABC's challenges were this year, either, and why the exiting personnel somehow didn't resolve them. Nor will you find details – or even a mention – about the "Leadership Changes" or the challenges faced this year on IABC's home page or its News & Announcements section.
As I've said before, the corporate world has a long and not-so-proud history of using euphemisms. This substitutes an inoffensive expression for one that may offend, usually in the spirit of disguising bad news. Executives being "no longer with the organization" or "leaving to pursue other interests" generally mean involuntary departures.
IABC, please give members credit for being able to handle the truth, and give it to us.
Related reading
Hidden facts? Might as well be weasel words
6 reasons to avoid jargon and corporate speak
'Improved experience'? Probably weasel words too