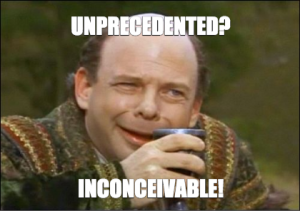 No doubt you've lost count of the number of times the word "unprecedented" has come your way in the past few months. It's a go-to word for newspaper headlines, concerned emails and earnest messages from CEOs, marketers and politicians.
Google Trends shows little interest in the meaning of "unprecedented" from 2004 until a brief time in September 2019. Then the term spiked in January 2020, surged again in March and hit a peak in late April.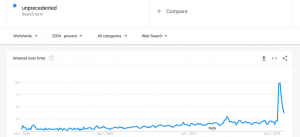 Thankfully, the use of unprecedented is dropping off, but I've run across so many examples, it's clearly not going away anytime soon. Here are some of the examples I've run across in just a couple of weeks:
"Even though we are in the middle of an unprecedented crisis…"
"These are unprecedented times, and as a charity we are not alone…"
"So many brands have been speaking out against racism as we go through this unprecedented period of civil unrest."
"City seeing unprecedented dip in rents"
"We are in an unprecedented time and there's unprecedented pressure on Ontario families."
"The last several months have provided an unprecedented disruption in the ways people work at most companies across the world."
"Windsor-area outbreak 'unprecedented'"
"At a time when the world faces an unprecedented crisis brought on by COVID-19…"
"It shut down our economy for months, led to record unemployment levels and resulted in unprecedented stimulus packages from all levels of government."
We get it. Life is anything but usual in a pandemic. But don't you wish people would change it up sometimes? Here are some options:
For unprecedented as never before seen:
In uncharted waters
Incomparable
Inconceivable (shades of The Princess Bride!)
Like no other
Never before seen
Unequalled
Unfamiliar
Unheard-of
Unimaginable
Unlike any other
Unmatched
Unparalleled
Unrivalled
Without parallel
Without precedent

For unprecedented as out of the ordinary:

Abnormal
Bizarre
Difficult and disruptive
Exceptional
Extraordinary
Freakish
Not remotely like
Out of the ordinary
Unusual/highly unusual
Working without a GPS

For unprecedented as surprising:

Astonishing
Amazing
Beyond compare
Remarkable
Singular
Strange
Surprising
Unbelievable
Uncommon
Which one is your favourite? Do you have any other brilliant options? Let me know in the comments.
This post first appeared in the July issue of my newsletter. Wordnerdery is a quick read about words, effective/expressive writing, newsletters and more. Are you a subscriber yet? If yes, thanks for reading! If not, you can sign up right now. In keeping with Canada's anti-spam laws and just plain good manners, you can easily unsubscribe any time.