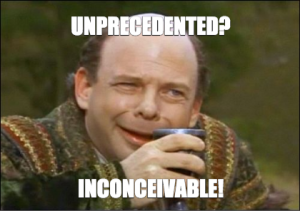 No doubt you've lost count of the number of times the word "unprecedented" has come your way in the past few months. It's a go-to word for newspaper headlines, concerned emails and earnest messages from CEOs, marketers and politicians.
Google Trends shows little interest in the meaning of "unprecedented" from 2004 until a brief time in September 2019. Then the term spiked in January 2020, surged again in March and hit a peak in late April.
Thankfully, it's dropping off, but I've run across so many examples, it's clearly not going away anytime soon. But wouldn't you like people to change it up?
The July issue of my newsletter, Wordnerdery, offers 34 alternatives for unprecedented, including incomparable, inconceivable and unimaginable. Have a look and let me know if you have any other brilliant options.
Wordnerdery is a quick read about words, effective/expressive writing, newsletters and more. Are you a subscriber yet? If yes, thanks for reading! If not, you can sign up right now. In keeping with Canada's anti-spam laws and just plain good manners, you can easily unsubscribe any time.