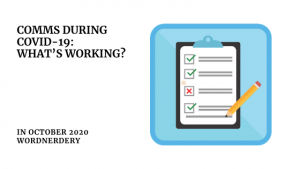 Who imagined back in March that we'd be dealing with the fallout of the pandemic through nearly four seasons?
The number of people affected changes daily, and sometimes the advice, too. People are hungry for news, and they want to hear from their employers – at least once to several times a day. This according to the Edelman Trust Barometer's special report on the coronavirus.
Those employees also expect the employer to use all channels, including company-wide emails or newsletters (52%), intranet posts (34%), team and company-wide meetings (22% and 21%), phone/video conferences (19%) and video (13%).
With people turning to their employers as a trusted source, communication professionals are at the heart of decisions on what to communicate and when. I talked to some of my contacts to see what they're doing differently and what's been most effective:
BLUEWATER HEALTH
Julia Oosterman is Chief, Communications & Public Affairs for Bluewater Health, a busy hospital that has close to 2,500 staff and volunteers providing healthcare in the Sarnia area. For Julia and her staff, it's been seven days a week for "forever."
"We're now emailing daily wrap-ups of the top COVID stories on our intranet for all staff. We also prepare a weekly cheat sheet of tips for managers. These were daily in the beginning.
"The single greatest thing we implemented just before COVID was an intranet that can be accessed on people's phones, sometimes personal phones if they don't have a work one. Directives were coming in so fast and furious that we made the intranet our 'one source of truth.' We had staff at every door when folks came in the building and we showed them how to get the app on their phone. Then we asked them to check the app daily before the start of every shift."
LOBLAW COMPANIES
Jennifer Ballantyne, ABC, is Director, Content & Community at Loblaw Companies, which has more than 190,000 employees across Canada.
"We're fortunate that, over the past couple of years, we've rolled out new digital tools for our colleagues, including our frontline workers in stores and distribution centres. The tools include a new intranet (called 'flip') and Yammer, both of which are available on our colleagues' personal devices.
"Use of both these tools increased dramatically with the onset of the pandemic and they've been very effective: the intranet for getting the latest information to our frontline, and Yammer for getting feedback from them. Through Yammer, we've been able to answer colleague questions and they've been able to offer up ideas and suggestions based on their experience in stores."
IGM FINANCIAL
Yvonne Catty, ABC, formerly of Vitamin-3 Communications, is now in-house as communication lead in the Operations division at this financial services firm of 5,000 employees. Yvonne reported on something fun they did to recognize the extra work being done:
"Our team needed a lift after more than six months of virtual working, so we organized Microsoft Teams Oscars. We handed out 20 awards, including for Sound Editing (best barking dog or talking while on mute), Costume Design (best dressed, most likely to be wearing slippers) and Best Picture (best headshot). Everyone dressed in evening wear and changed backgrounds for the occasion. Such fun!"
Thanks so much to Julia, Jennifer and Yvonne for responding to my request for comment. How about you – what tools and channels are taking off thanks to the pandemic? What have you done to give your team a lift? Please add in the comments or send me an email.
This post first appeared in my newsletter, Wordnerdery. It's a quick read about words, effective/expressive writing, newsletters and more. Are you a subscriber yet? If yes, thanks for reading! If not, you can sign up right now. In keeping with Canada's anti-spam laws and just plain good manners, you can easily unsubscribe any time.