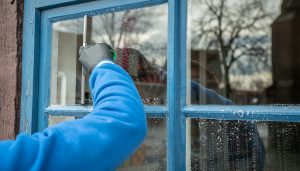 I was among the many Canadians glued to the TV, watching the election results with America. I made it to midnight, and went to bed when it was clear there would be no speedy result.
One word kept popping out at me during discussions on CBC's The National: Several times, host Adrienne Arsenault expressed surprise that early results showed voters were not repudiating President Trump. (In the interests of being clear in a confusing situation, it would have been more helpful to say disowning or rejecting him.)
Here are some other recent mentions of the word seen in the wild:
"It is incumbent on all elected officials to repudiate @realDonaldTrump's authoritarian acts and claims of victory." – @ProjectLincoln on Twitter

"Even as they held out hope, they knew they hadn't won what they wanted: a nationwide repudiation of Trump." – Associated Press

"U.S. voters need to do something more if they truly want to start healing their nation. They must deliver a clear and unambiguous result, a decisive repudiation of the shambolic reign of the 45th president." – Toronto Star

"Black voters surged to close the gap and repudiate Trump in MI, WI, GA + nationally." – @andre_banks on Twitter
Surprisingly, the word didn't make it on this list of top trending words on Merriam-Webster the day after the election*:
Democracy
Contested election
Incumbent
Modest
Nail-biter
Empathy
Integrity
Character
Republican
Disenfranchise
Change
Justice
Pandemic
Environment
Referendum
Constitution
Malarkey**
Confirm
Republic
Democrat
Electoral
News anchors and journalists do a good job of keeping viewers and readers aware of what's going on, but are they getting caught up in words that don't add up to a clear picture? M-W's trending lists show that people don't just look up words they may not have encountered before, like disenfranchise. They also look up words you'd think they know by now (still looking up pandemic after how many months?) or would have a general idea about (change, justice).
All the more reason to use clear, familiar words whenever possible.
*Update! "Repudiation" topped the list of lookups on November 8.

**Apparently Joe Biden has a fondness for this description of "foolish talk," causing lookups on Merriam-Webster to spike 500% during the presidential debate October 22, and leading Saturday Night Live to include it on a Biden Bingo card.
Image by Sebastian Ganso from Pixabay.