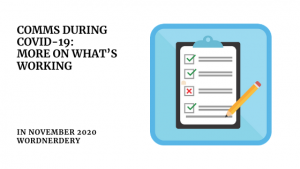 As the pandemic wears on, is the pace of communication easing for you?
Comparing conditions in May 2020 and September 2020, a Simpplr survey found that at first, employees received company-wide updates daily, even several times a day. By September, the updates were more likely once a week.
Rather than a strict rule, though, the best practice is make your updates timely. As one survey respondent said, "Communicate what you know when you know it. It doesn't have to be perfect to be effective." Another said, "People are much more forgiving when you don't have all the answers, as long as you are communicating frequently and sharing information as it becomes available."
I checked with communication professionals in my own network and other resources for what's being done differently and what's been most effective. See what's been going on at PepsiCo Foods Canada, Bananatag, Facebook and PoliteMail in my November newsletter.
Wordnerdery is a quick read about words, effective/expressive writing, newsletters and more. Are you a subscriber yet? If yes, thanks for reading! If not, you can sign up right now. In keeping with Canada's anti-spam laws and just plain good manners, you can easily unsubscribe any time.