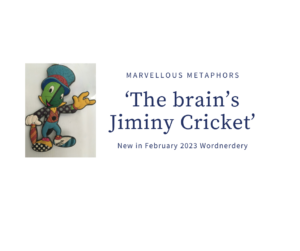 Metaphors are marvellous when you want to explain something complicated, give an idea of size, make a point memorably – or just make someone smile.
"An especially apt metaphor surprises and delights," says author Jack Hart in A Writer's Coach: An Editor's Guide to Words that Work. "It opens new levels of meaning. It gives readers an incentive to move forward, confident that more rewards wait somewhere ahead."
Metaphors compare one thing to something "blindingly familiar, but completely unrelated," says copywriter Mel Wicks. And it happens without using "like." So not "She was like a black sheep" but "She was a black sheep."
My February newsletter, Wordnerdery, shares some examples I've collected, including this one:
"The prefrontal cortex is the brain's Jiminy Cricket," said [Dr. Robert] Lustig. "It keeps us from doing stupid things."  – quoted in The Power of Fun: How to Feel Alive Again by Catherine Price
Find more marvellous and memorable metaphors in February Wordnerdery. And do share any you've spotted in the wild. I'm always looking for terrific examples.
Wordnerdery is a quick read about words, effective/expressive writing, newsletters and more. Are you a subscriber yet? If yes, thanks for reading! If not, you can sign up right now. In keeping with Canadian and American anti-spam laws – and just plain good manners – you can easily unsubscribe any time.