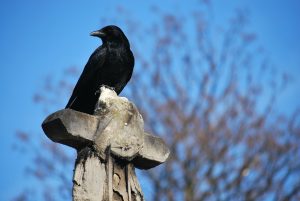 Asking Google today "Is blogging dead in 2021?" pulled up 18 million results.
I often ask that question around this time, since my own blog anniversary is January 24 (an amazing-to-me-too 14 years, thanks). Every year I've asked, the answer is no, particularly for small businesses.
In fact, Darren Rowse of ProBlogger says 2021 is a great time to start a blog: Thanks to COVID-19, he says, "the world needs hope, positivity and practical solutions to new and emerging problems. You have the potential to make the world a better place, lend your voice to worthwhile causes and build community."  As he's done in other years, Darren launched a "Start a Blog" class leading up to ProBlogger International Start a Blog Day, February 7.
So if you're just starting a blog, don't let people tell you it's too late.
Blogging still works
Andy Crestodina of Orbit Media Studios agrees that blogging still works – "works" meaning a range of goals, from fame and fortune to reach and revenue. In his seventh annual blogging survey of 1,000+ bloggers, he finds that it REALLY works for those who publish daily, write 3,000+-word articles, research keywords for every post and more. Phew! (Scroll down his lengthy post to The Ultimate Blogging Strategy for details.) Recognizing that few of us have the time and team of people to do this, he recommends deciding which elements are reasonable for you. Maybe it's as simple as working harder on headlines.
Neil Patel too notes the increase in length of blog posts, something he calls part of creating "high quality, useful, relevant, and engaging content about things that matter." In 2020, the average length of a "top ranking" blog post was 1,447 words, up from 808 words in 2014. Just remember this doesn't mean lots of words for the sake of words. "Consumers want quality. They want detailed, relevant, useful posts."
Content strategist Konrad Sanders says blogging isn't dead; "It's just reincarnated." He calls blogging "as effective a marketing tool as ever," providing you look at it as building relationships by spending time talking to readers and answering their questions. There's that idea of being useful and relevant again.
Arrigo Lupori at Koala Rank declares blogging isn't dead "and won't die for the next decade either." He says "the core premises of a good blog are stronger than ever," but the focus is shifting to content as a whole. In 2021, it's all about storytelling.
Sean Ogle at Location Rebel, a marketing site online since 2009, says blogging is hugely relevant and "a totally viable strategy in 2021 and beyond." This is especially important because, as he points out, online searches are more likely to direct you to a blog rather than, say, Instagram or TikTok. Since people do hang out in those different places, though, he advises choosing at least one other channel and embracing it.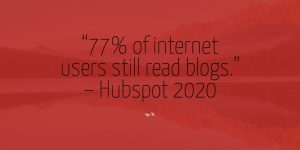 What about video?
Hubspot cites marketing stats that show 77% of internet users still read blogs. However, it says video has become the most commonly used format in content marketing, ahead of blogs and infographics. And the popularity of video is growing.
Still, Christopher Penn points out that people viewing your content on YouTube and not your website violates "one of our first rules of social media, which is never build on rented land. "You should always be building your best stuff on your site." He says 2021 might be "the return of the blog."
How about you; do you still mostly follow blogs? Are you starting to follow more people's videos on YouTube?
Are you on the list to find out about new posts in the Red Jacket Diaries? Sign up here to get a short alert each time I publish my weekly(ish) blog posts and/or my monthly newsletter. In keeping with Canadian and U.S. anti-spam laws and just plain good manners, you can unsubscribe any time.
Image by Eliane Meyer from Pixabay.
Related reading:
Was blogging dead in 2019? Nope, it wasn't then either
Yup, blogging was still alive and well in 2018 – includes reasons to blog and blogging tips that still have value