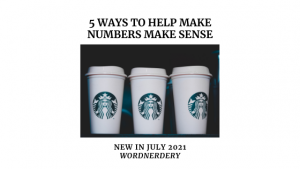 Making a tiny change in your own life that would fight climate change seems impossible.  That may seem especially so after a week that saw catastrophic flooding in Europe, wildfires in Western Canada and the U.S., a tornado north of Toronto and more.
Yet Starbucks says we can help it achieve ambitious goals for reducing its effect on the environment. How? Ditch the whipped cream.
Here's how Eric Pfanner of Bloomberg News makes that idea clear:
"Adding whipped cream to millions of Starbucks Corp. drinks emits 50 times as much greenhouse gas as the company's private jet. Overall, dairy products are the biggest source of carbon dioxide emissions across the coffee giant's operations and supply chain."
Wow, now I get it.
If you're going to use numbers to make a point, be sure you're helping make those numbers make sense. The July issue of my newsletter, Wordnerdery, talks about five ways to do so. They include doing the math and giving numbers context, as Bloomberg News did.
What are your best tips for explaining numbers? Have you spotted a helpful analogy that explains a large or small number? Please share in the comments. And let me know if you'd like help making your own numbers make sense.
Wordnerdery is a quick read about words, effective/expressive writing, newsletters and more. Are you a subscriber yet? If yes, thanks for reading! If not, you can sign up right now. In keeping with Canada's anti-spam laws and just plain good manners, you can easily unsubscribe any time.