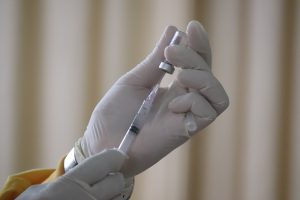 When I heard that three COVID-19 vaccines were getting new names, and when I saw the names, I thought it was a joke. But no, apparently it's true.
Health Canada has "authorized brand name changes" for the vaccines formerly known as Pfizer, Moderna and AstraZeneca. Henceforth, they shall be known in formal circles as Comirnaty, SpikeVax and Vaxzevria.
You and I will probably stick to the old names.

I always want to know why something is called what it's called. Why those names? Why change at all? So I went looking for answers. (Communications alert: Don't force people to do this. Explain what and why up front.)
In a Pfizer news release, the company said Health Canada had granted full approval for COMIRNATY®, which "has been referred to as the Pfizer-BioNTech COVID-19 Vaccine." A news report said the new name "represents a combination of the terms COVID-19, mRNA, community, and immunity." Well, good to know, even if we can't pronounce it.
Moderna likewise announced the approval for SPIKEVAX™ in a news release. It tied the name to "a prefusion stabilized form of the Spike (S) protein." Hmm, not super clear to the non-scientist.
I couldn't find an official AstraZeneca release, but apparently Vaxzveria® (what, no ALL CAPS?) is a version of the AstraZeneca vaccine developed in Europe.
There's a time for renaming things, like when you realize your university is named after one of the "architects" of the residential school system, or when your company's name violates another company's trademark, or when your brand name no longer covers all the products or services you offer. But this?
At first I thought this made no sense, and the news releases trumpeting the glorious news (haha) didn't try to explain. However, I found another report that reveals what's really behind it: The vaccines were previously approved under an interim order that was set to expire on September 16.
"During the interim order, the vaccines didn't go by their brand names, but now that new and more long-term data has been submitted and approved they will go by their permanent name."
Aha. So presumably the companies are trying to promote the long-term data and the approval.
I still think they would have been better off sticking with the familiar non-brand names.
Whatever you call them, please get vaccinated and let's get through this pandemic.
Photo by Mufid Majnun on Unsplash. (You're welcome; I don't like seeing needles going into arms either.)