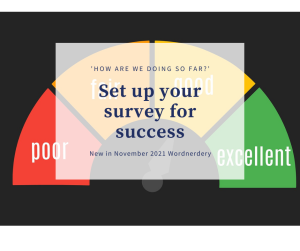 You want to know how well your company is serving customers, or if employees feel a part of the company. Or you want to know if customers loved that product you sell or had a good experience with service.
Surveys can be the answer, highlighting trouble spots and helping you fix them. Or surveys can just annoy the people you most want to hear from.
I have opinions based on my own experiences – for example, the bank that wanted to know if I thought it "cared" about me, the car dealer who hounds me for a review after a simple oil change. But I've also gone back to review some best practices while helping a client fine-tune a short survey.
My November newsletter has 13 tips for setting up your survey for success. #1 is the all-important "Start with the end in mind." What's the purpose of your survey? Identify what you want to know and use a simple, specific goal to figure out the most important questions to ask.
Read more in Wordnerdery. And let me know if you have any other tips to share, or tales of questions that stopped you in your tracks, like that bank…?
Wordnerdery is a quick read about words, effective/expressive writing, newsletters and more. Are you a subscriber yet? If yes, thanks for reading! If not, you can sign up right now. In keeping with Canada's anti-spam laws and just plain good manners, you can easily unsubscribe any time.