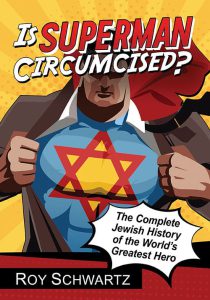 Any contest (1) dealing with books and (2) awarding a prize to The Oddest Book Title of the Year is a winner. So if you're a book lover too, you'll be eager to find out the winner of the quirky Diagram Prize for Oddest Book Title for 2021.
Drumroll….
Is Superman Circumcised? by Roy Schwartz has – ahem – cut through the competition to claim the prize, with an decisive 51% share of the public vote.
Right, that's the other part of this prize. The co-ordinators of the prize love slightly naughty humour and a good pun. They are British, after all.
Tom Tivnan, managing editor of British trade magazine The Bookseller, says, "The Diagram Prize has gone from strength to superhuman strength with this year's win for Is Superman Circumcised?—provided there is no Kryptonite around, I suppose."
The post announcing the win explains the title is "an academic study on the Jewish origins of the iconic DC Comics character." It also "flew faster than a speeding bullet to quickly grab the number one spot in the polls when the public vote was first announced in early November, a lead it never relinquished." More than 11,000 members of the public voted for the title.
This odd contest has been around since 1978, springing to life as a way to avoid boredom at the Frankfurt Book Fair. It celebrates "the beauty of print-on-demand for fascinatingly niche titles, and perhaps most of all, complete and utter oddity," The Bookseller's Philip Stone once said.
The title that started it all, according to co-ordinator Horace Bent (@HoraceBent) is 1978's Proceedings of the Second International Workshop on Nude Mice. Other past winners include:
2020: A Dog Pissing at the Edge of a Path: Animal Metaphors in Eastern Indonesian Society, the first-ever Canadian winner
2019: The Dirt Hole and its Variations
2018: The Joy of Waterboiling.
Armed with that knowledge, keep your eyes open for other odd titles to throw into the competition next year at TheBookseller.com. You might come away with "a passable bottle of claret." Or, more likely, you might just earn the glory of coming up with an obscure book title that spawns a torrent of bad puns.
Related reading:
More about the 2016 contest and winner Too Naked for the Nazis
More about the 2015 contest and winner Strangers Have the Best Candy