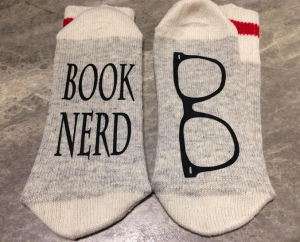 Festive lights and Christmas trees are already popping up in my neighbourhood. American Thanksgiving is fast approaching. The news is full of dire predictions for the availability of whatever it was you hoped to buy for Christmas gifts.
Let's get cracking, then, with my annual roundup of gift ideas for the readers and writers in your life. Note that these are not affiliate links; I just think they'd make great gifts.
Before you go online, get out (masked of course), stroll around your town/city, and browse the stores. You're sure to find something! Get gift certificates for an activity or a fave restaurant (help keep them in business!), buy books from an independent bookstore or get a subscription from a local flower shop. If you shop online, stay away from Amazon and big box stores. Try to pick up gifts rather than have them shipped, if you can. These are all Canadian sources, but for my American friends, feel free to take inspiration and search out your own U.S. sources.
FOR THE OFFICE

1. Another Dam List notepad
I love a paper "to do" list and this makes me laugh. Made by Quebec-based company Hatley and sold by !ndigo. $7.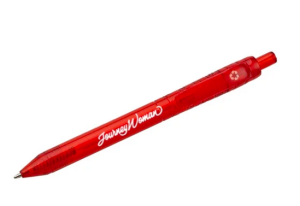 2. Travel the world pen
From JourneyWoman's new merchandise line. Made by Ethical Swag with 80% recycled materials from plastic water bottles. $3.25.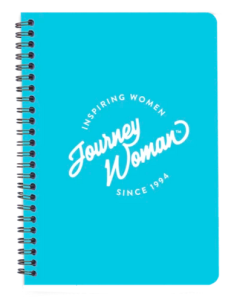 3. Ocean blue journal
More JourneyWoman swag. Pages and covers are coloured with organic, soy-based inks. Made in Canada with 90% recycled materials. $15.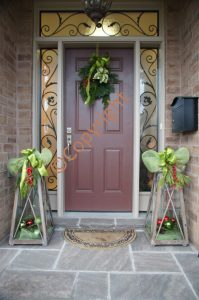 4. Escarpment Views notecards
Pretty notecards from Niagara Escarpment Views magazine. Your choice of Christmas décor (shown here), autumn/winter views, garden or wildflower photos, all taken by co-publisher Mike Davis. There's also a new book out full of Escarpment photos. (Full disclosure: publisher Gloria Hildebrandt is a friend and I have occasionally written for the magazine.) $20 for eight cards.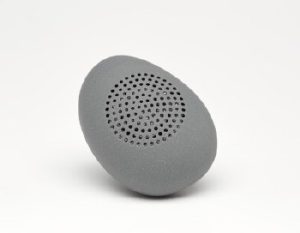 5. Kikkerland Pebble Micro Speaker
A pocket-sized wireless speaker with micro USB charging cable. I concentrate better in a quiet office, but this is a great gift for those who like to listen to music while working. Not made in Canada, of course, but buy it from the Art Gallery of Ontario. $27.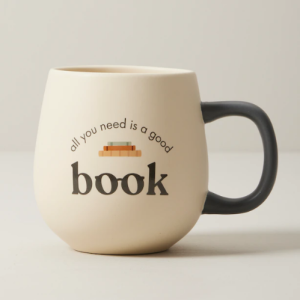 6. "All you need is a good book" mug

Stoneware, microwave- and dishwasher-safe mug exclusive to !ndigo. Inside says "and a cup of tea." $14
WEARABLES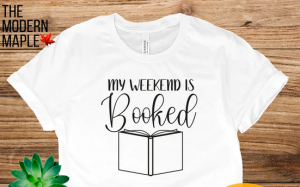 7. "My weekend is booked" t-shirt
Evenings are booked, too, TBH. Cute t-shirt from Etsy seller The Modern Maple Canada. $27. (No longer available.)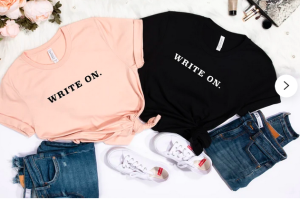 8. "Write on" t-shirt
Cotton or cotton/polyester t-shirts in unisex sizing. Also available: "Readers are leaders" and "You're on mute." From Ottawa Etsy seller Azbisel. About $30. (No longer available.)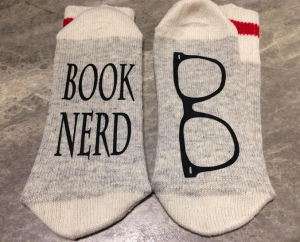 9. "Book Nerd" socks
Wool/polyester blend unisex socks. From Fort Erie, ON Etsy shop SolelySocks. About $10.
BOOKS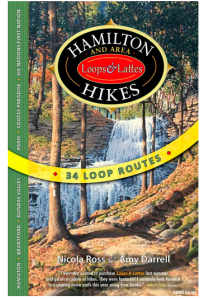 10. Loops and Lattes books
If you spend long hours at a computer, you need to get outside. Ontario friends, get inspiration from a Loops and Lattes hiking guide by Caledon resident and author Nicola Ross. These show routes that start and end in the same place, from 3 km to 25+ km, with ideas for where to get a snack afterwards. Find them in a local store (I bought the Hamilton one at MEC in Burlington), the Bruce Trail Conservancy or Loops & Lattes website. Thanks to my friend Bruce Madole for the suggestion. About $30.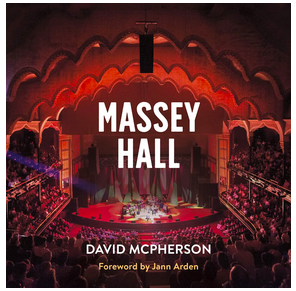 11. Massey Hall book

Just because it is so Canadian: The story of Canada's revered concert hall, with historical and musical moments of the past 127 years. Written by a former IABC colleague, David McPherson. From Dundurn Press. $39.99.
FOR FUN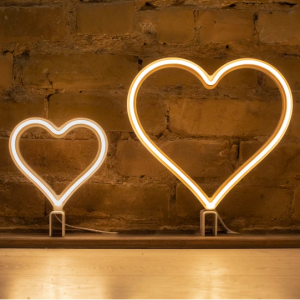 12. Mini LED neon heart
A small version (7" x 7") version of the original 12″ x 10″ Glowing Heart, created as a way to show love and support to healthcare heroes, frontline workers and live entertainment workers. The frame is routered out of 3/4″ laminated Canadian hardwood and the unit is hand assembled in Mississauga. A portion from each mini purchase goes to War Child Canada.  From Our Glowing Hearts. $89.99.
Do you have any other fun ideas? Please share in the comments.
Related reading:
Check my posts from 2020, 2019, 2018, 2017, 2016 and 2015 for more inspiration (and some items might still be available).
(Post updated November 8, 2022.)