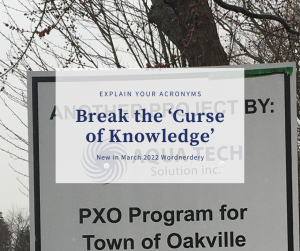 The mysterious case of PXO began with a pile of traffic cones at two nearby parks. A few weeks later, signs arrived, announcing a "PXO Program." It was a term I'd never heard, and the name of the contractor involved (Aqua Tech Solution Inc.) suggested water might be involved. Puzzling.
I had to visit my town's website to find out PXO means "Pedestrian Crossover Control" (so technically PXOC). Oh, I guess these are long-awaited crosswalks coming to two school bus stops!
Besides confusing residents like me, the town missed a chance to earn brownie points by telling us about the good thing coming our way. I blame the "Curse of Knowledge," where everyone working on the PXO project got so used to the term they forgot it was a foreign language to those of us outside the inner circle.
The March issue of Wordnerdery offers some guidelines on how to explain or avoid confusing acronyms like PXO. This includes – gasp! – not even using an acronym. Have a read and let me know what you think.
Wordnerdery is a quick read about words, effective/expressive writing, newsletters and more. Are you a subscriber yet? If yes, thanks for reading! If not, you can sign up right now. In keeping with Canadian and American anti-spam laws – and just plain good manners – you can easily unsubscribe any time.