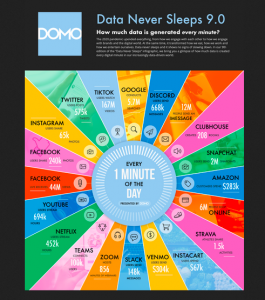 Confess – you're spending more time than ever online. There are work events on Zoom and Teams. There are photos and messages from family and friends on Facebook and Instagram. There's YouTube and Twitter and TikTok. And then there's Wordle and all its many variations. Oh, and Words With Friends. (Guilty pleasure!)
What are the chances you'll be on the specific channel at the specific time someone shares an interesting post? Pretty slim, when you consider there are some 575,000 messages flashing by every minute on Twitter alone, according to Domo.com. Whooosh!
That fleeting nature is one reason I like to reshare some of the interesting, helpful and sometimes funny articles I've run across. Here are some recent ones:
Word choice
Writing tips
Personal
Related reading:
Links from March, including readability, diversity and a big proofreading fail
Links from February, including how to help Ukraine, plain language and a bit of silliness
Links from January, including jargon to avoid and some powerful stories
ICYMI is In Case You Missed It. Image from Domo.com's Data Never Sleeps, or what happens on the internet every minute.