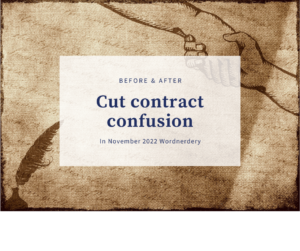 In the old days, a handshake was your contract.
Today, the hands involved belong to lawyers, and they are all over the simplest of contracts. Unfortunately, as Ohio Judge Mark P. Painter says, "Most legal writing is atrocious."
Forget short, crisp sentences. One reason is that lawyers keep adding qualifiers to tighten what a contract does or does not cover. Whoops, last time we only said "cancel." Maybe it should be "cancel and annul." No, we should make it "cancel, annul, and set aside."
Sentences are long, strung together with multiple commas and semicolons before they meander to the end. Often, they're also needlessly written in ALL CAPS. Words are long, too, bracketed by many "heretofores" and "hereinafters" and such.
The result is "a dense, overly lengthy contract that is loaded with legal jargon and virtually impossible for a non-lawyer to understand," says Shawn Burton. He was the general counsel for GE Aviation's digital services unit when he led the charge to simplify contracts.
The November issue of my newsletter, Wordnerdery, takes a look at the legal wording about bribery in a client's one-size-fits-all contract. Never mind that it doesn't apply to me, since I don't deal with foreign governments. See the four things I did to take it from a post-graduate level (rated "extremely difficult to read" and the type of "light reading" you find in academic journals) to a more reader-friendly grade 7.
Wordnerdery is a quick read about words, effective/expressive writing, newsletters and more. Are you a subscriber yet? If yes, thanks for reading! If not, you can sign up right now. In keeping with Canadian and American anti-spam laws – and just plain good manners – you can easily unsubscribe any time.