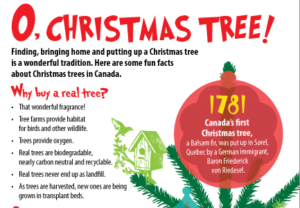 Tomorrow is the first Saturday in December, and that's National Christmas Tree Day. It's a perfect day to find out facts about, well, Christmas trees.
I'm taking you back to the blog vault for "Fun things to know about Christmas trees." The post shares an infographic that was a collaboration with my friend and colleague, Deana De Ciccio.
The infographic includes the story of Tree for Boston, a gift from Nova Scotia that was lit up last night in Boston Common. Each year, a Nova Scotia family donates a tree. (Learn more about the 1917 Halifax Explosion that prompted the gift.)

You'll also learn the most popular types of trees, how long they take to grow, and where in the world you'll find Canadian Christmas trees.