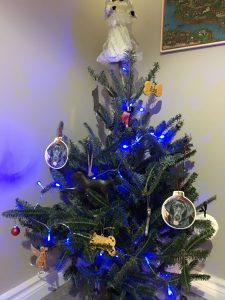 When it comes to Christmas trees, it seems people are either in Camp Real (oh, that fragrance!) or Camp Artificial (oh, so easy).
For many years, my family was away over the holidays, so for safety's sake, we went with artificial. And having one, we keep using it. These days, I also buy a real mini "elf tree" (2019 version shown here) because my heart really lies with Camp Real. Yes, those are all dog-related decorations. 🙂
What's so special about real trees? As The Christmas Tree Farmers of Ontario say, "Nothing says Christmas more than a real tree."
In 2015, I partnered with my friend, colleague and graphic designer Deana De Ciccio to create a just-for-fun infographic related to real Christmas trees. It includes fun facts like the most popular types of trees, how long it takes to grow an average tree, and places where Canadian trees end up (would you believe Australia and the Caribbean?).
We updated the original version to this "evergreen" version in 2019. Click on the image below and zoom in to read it. Enjoy!
(Post updated for Christmas Tree Day 2020.)