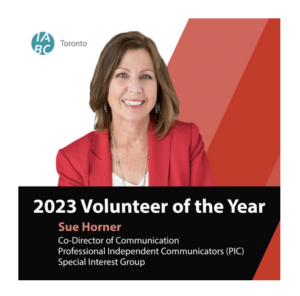 Considering IABC basically runs on volunteers, it is a real honour to be singled out among the hundreds in the Toronto chapter as its one Volunteer of the Year.
As IABC/Toronto says, "Our volunteers are the heart and soul of our chapter. Their passion for the profession, dedication to the profession and invaluable contributions of time and expertise help IABC/Toronto thrive."
With so many of us working away behind the scenes, the board selects someone "whose contributions supported the chapter's mandate and made a significant impact in our member experience." [Blush]
My nomination specifically mentions my "invaluable and immeasurable" commitment to the chapter and its Professional Independent Communicators, and being "instrumental in PIC's monthly newsletter and managing their social media presence."
The news went public this week, and my post about it on LinkedIn now has 6,682 impressions and more than 91 comments. Wow!
One of the interesting things has been hearing from people I have not talked to for years. And looking back, that makes sense. I've been part of PIC in one way or another since its origins in 1998.
The start of my IABC volunteer career
In those early years, I was not active at all with IABC. I had two young boys and a husband who travelled a lot, and found it hard to get out to in-person events. There was no Zoom at the time, if you can imagine that! I remember clearly feeling unconnected and wishing someone would share what they learned at these events. They did not.
By 2004, I was able to get to more events and somehow also joined the PIC executive. Since some of my corporate work included employee newsletters, starting one to keep PIC members connected fit my skills and interests. It's gone through several variations, but The Buzz lives on!
I have said this before, but much of the work in schools, non-profits, associations like IABC and other organizations just doesn't happen without volunteers. Yet it's so easy to sit back and say YOU don't have time to do it. But, oh, the group SHOULD DO this, or WHY DON'T THEY…?
Stop right there. If you catch yourself thinking that, also think about how you could help make it happen, and who you could approach about it.
Besides, well, making things happen, what's in it for you?
I've blogged before about the value of volunteering.
HelpGuide.org also details the benefits, describes how to find the right volunteer opportunity (like IABC), and offers tips to get the most from volunteering.
The Conference Board of Canada (pdf) says services provided by volunteers help strengthen and empower individuals and communities, and benefit the volunteers and their employers by expanding their experience, skills, and social and business networking opportunities.
Oh, and you just might get a fancy plaque and be crowned Volunteer of the Year. 🙂