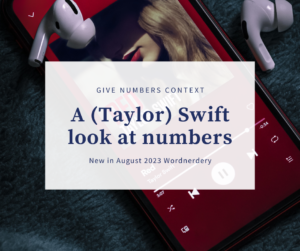 If you use numbers to make a point, it's not enough to just list the numbers. Especially with large or small numbers, you help your readers by giving context.
In the August issue of my newsletter, Wordnerdery, I look at some of the big, big numbers around Taylor Swift's upcoming Eras Tour and what they mean. What are the odds of getting the secret code to buy a ticket? How much babysitting would a young fan have to do to buy a ticket? With her earnings from one concert in Toronto, what could Taylor Swift buy?
Find out in Wordnerdery!
Wordnerdery is a quick read about words, effective/expressive writing, newsletters and more. Are you a subscriber yet? If yes, thanks for reading! If not, you can sign up right now. In keeping with Canadian and American anti-spam laws – and just plain good manners – you can easily unsubscribe any time.