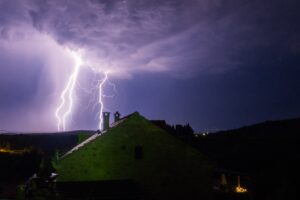 I can't be the only one who eagerly awaits the results of the Bulwer-Lytton Fiction Contest. At last, they're in!
This amusing contest goes back to 1982, and invites ideas for the worst possible opening sentence to a fictitious novel. It's named after Edward Bulwer-Lytton, the 19th century novelist who created the now-famous 58-word opening sentence that inspires Snoopy's literary efforts:
It was a dark and stormy night; the rain fell in torrents—except at occasional intervals, when it was checked by a violent gust of wind which swept up the streets (for it is in London that our scene lies), rattling along the housetops, and fiercely agitating the scanty flame of the lamps that struggled against the darkness.
The 2023 winner, chosen from over 6,000 entries, comes from Maya Pasic of New York:
"She was a beautiful woman; more specifically she was the kind of beautiful woman who had an hourlong skincare routine that made her look either ethereal or like a glazed donut, depending on how attracted to her you were."
Others that made me laugh included the winner in the Adventure category, by Oliver Mauserthan, Jacksonville, Florida:
"The man squinted his eyes as the blistering cold winds battered his rugged face, his eyes darting about, desperately hoping, daring to dream that amidst the frozen wasteland, he would find the last Klondike Bar that he had hidden in his freezer."
And these dishonourable mentions:
"Having attended Oktoberfest, taken in the beautiful foliage of New England, gone apple-picking, roamed through a corn maze, and visited a pumpkin patch, one thing was certain—Humpty Dumpty had a great Fall." – Mark Meiches, Dallas, Texas
"It was a Dark 'n Stormy night; the rum fell in torrents—except when it was checked by an equal, if not more substantial, measure of ginger beer (for it is in a highball glass that our drink lies), accented with a hit of lime juice from a well-placed wedge, and perhaps a dash of Angostura bitters, though that is at the bartender's discretion and certainly not required." – Allison Bryski, Durham, North Carolina
"Admitting the need for change is the first step toward recovery—I'm really proud of you," said the first-year psych student, moonlighting as a supercilious clerk at the mini-mart, and Jane responded, "I'm really just trying to break a twenty and get some ones." – John Tracy, Palm Desert, California
While the contest is all in good fun, remember that lengthy, rambling sentences are the worst for helping readers understand what you're writing. According to an American Press Institute survey, averaging fewer than 14 words in a sentence will result in 90 to 99% understanding. Sentences of more than 43? Zero to 9%.
Dark and stormy night photo by Ante Hamersmit on Unsplash.
Related reading:
The winner in 2022 had 75 words
More awful writing from 2020 and 2021, including a look back at the fave 2010 "nose for danger"
I first wrote about this amusing contest in 2009
People magazine digs up more detail on the contest