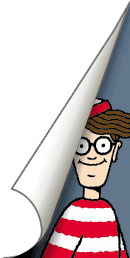 Remember the book, Where's Waldo? That's what my online presence has turned into these days. Where's Sue?
I've been quiet on this blog, Twitter and LinkedIn for weeks because I'm gearing up for the second year of the Professional Communication program at Royal Roads University. Another three weeks in residence in Victoria, B.C. starts in less than a week.
There's been a bunch of long and dense academic articles to read, a flurry of postings to make and read and reply to, several assignments to complete and four textbooks to read (actually, five, but I haven't been able to get my hands on the fifth yet). This is on top of the normal pace of my freelance writing business and an occasional social engagement or two. As I said last year, what was I thinking getting into this?
Oh well. I keep telling myself it's halfway done. This time next year, I'll be celebrating. In the meantime, it's back to work.
By the way, I remember looking for Waldo with my sons in various books, but you can now find (or at least, look for) Waldo online, take part in a flash mob dressed as Waldo, play Where's Waldo on your cellphone, create a Waldo avatar and more. Check it out at the home of all things Waldo!
Use of the Waldo image: TM & © 2008 Entertainment Rights Distribution Limited.  All rights reserved.