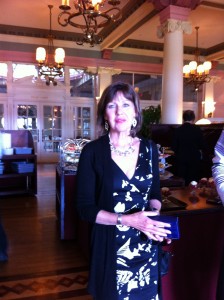 My second three-week residency at Royal Roads University is two-thirds done, closing last night with a class party that was all kinds of fun. Week one ended with tea at the historic Empress Hotel overlooking Victoria harbour; the photo shows me feeling a bit like Cinderella as I leave the luxury of the hotel to pick up where I left off in the dorm.
I'm fortunate in this residency to have a room that is actually like a hotel room rather than last year's psych ward. I have my own bathroom and a queen-sized bed, and I don't have to change my own sheets. Wish I'd had room to pack a decent pillow, though.
There aren't quite as many peacocks on campus, which apparently is because some of the flock have been relocated due to in-breeding. I'm just as fascinated with them as I was last year, and have been lucky enough to find a couple of their long, gorgeously vibrant tail feathers under one of the trees where they nest.
The program, for a BA in Professional Communications, continues to challenge with a mix of dense, brain-melting theories and concepts and long days of sitting in class, paying attention. However, it seems a little less intense. Maybe that's because I already know and have bonded with my classmates, and because we've also been dabbling in social media like Twitter and Facebook, where I already have some knowledge. The other big thing is that I don't have hanging over my head a big presentation in front of 200 people on the last day. Phew!
One week to go. I'm enjoying my stay, but looking forward to getting home and back to my usual routine.