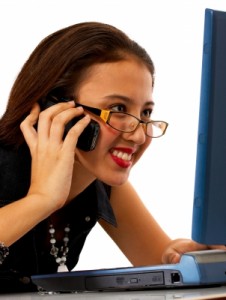 Freelancers and independent communicators often agonize over following up with prospective clients. We don't want to bother people. We worry that we'll be seen as pushy. This might not be a good time. We're calling too often. We've sent too many emails.
But there's a difference between being pushy and following up in a polite way.
You're nothing like the telemarketer with a set speech who doesn't allow someone to say a word for five minutes, right? So as I said in an earlier post about cold calling, here's a better way to think about following up:
You have a valuable service that the right person will be glad to know about. Your job is to find that person. Sometimes you just need a gentle reminder to bring your name top of mind to uncover some business.
Here's a great example of just such a gentle follow-up. Gerard Braud sent his contacts in Canada a "friendly heads up" when he was going to be in the Toronto area in a couple of weeks, mentioning that he had a day available if anyone needed his services for media training, key message writing or crisis communications planning. No pressure, no hard sales, just a recognition that he has a valuable service, and I or some of my colleagues might need it. I don't, but his name is in front of me in case I do.
Nicely done, Gerard!
Related posts:
It's OK to follow up
How to warm up to cold calling
Hit or missed opportunities
Image credit: Stuart Miles and FreeDigitalPhotos.net.