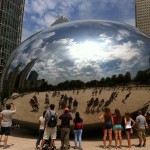 Once again, it's taken almost a week since the IABC World Conference to capture the highlights in a blog post, but here are some of them.
Besides having fun playing tourist in a great city, Chicago (that's Cloud Gate in Millennium Park shown here), I was able to get out for some delicious meals with some IABC foodies. I also enjoyed catching up with new and long-standing colleagues, including a couple of Twitter pals, and once again rooming with my friend, colleague and podcasting expert Donna Papacosta.
And instead of live-tweeting my conference life – not something I ever do! – I took notes on the sessions:
Keynote speaker Kevin Carroll
Kevin talked about bringing fun and passion to your work, and the power of play.
Key takeaways: Pay attention to what replenishes your energy stores. We all have the capacity to do a lot with a little. You have 86,400 seconds every day; if each was $1, you would never waste a single one. Do one kind thing every day. Speak your dreams.
One of the best lines: We all have two great days: the day we are born, and the day we discover why.
EXCEL award winner Irene Lewis
Irene was the first female president and CEO of SAIT Polytechnic, now one of Alberta's top 50 employers.
Key points: Believe in the importance of face-to-face communications and leading from the heart. When employee engagement is low, ask employees three questions: What is working well? What is not working well? How can we fix it? Use video communications to discuss the organization's operating environment, strategic priorities and successes and to thank employees.
One of the best lines: On the resistance to her leadership early on, she smiled and said, "Let's just say I'm still here." (My new Twitter friend Miri McDonald wrote a more comprehensive summary of Irene's presentation.)
Joseph Thornley: Throw me a life preserver, I'm drowning in a sea of data
Joe talked about monitoring, measuring and acting on the loads of data available on our companies, noting that traditional media are decreasing in importance.
Key takeaways & tips:  You aren't trying to achieve 100% coverage, but by identifying places where most conversations of interest are happening and using listening platforms like Hootsuite, the important things will come to you. Google Alerts are sent as email by default, but you should set it up as an RSS feed and subscribe in Google Reader. Some free services to use are Social Mention, Engagio and Epilogger (for events). Blogs are still important as an "owned" space to point people to and for holding conversations that aren't ephemeral. Use Google Analytics daily.
One of the best lines: Invisible doesn't mean silent.
Donna Papacosta: Content curation
Curation is finding, selecting, organizing and sharing the best content relevant to your audience, to keep up with info and position yourself as a trusted thought leader.
Key steps to curation: (1) Find content, using Google alerts, RSS, Twitter searches. (2) Pick your tools, such as Delicious, to save and tag material. (3) Own your niche, the way Michael Geist is noted for copyright issues. (4) Follow the 70/30 rule, where only 30% is your branded content. (5) Share using tools such as Paper.li and Scoopit, and make it easy for others to share.  (6) Always link to the original source.
One of the best lines: "70% of the world is more interesting than you" (on why you should only talk about yourself 30% of the time). Donna has shared her presentation on her blog, although not all of the slides will make sense without the voiceover.
Katie Delahaye Paine: Measure what really matters
Katie opened with some surprising numbers, including the fact that digital natives switch media every 2.2 minutes.
Key takeaways: Followers/reach does not equal influence. What matters is being found online, your ability to affect someone's actions, engagement, relationships, advocacy, sentiment and return on investment. To measure what matters: (1) Define what success means to you. (2) Understand what motivates your audience (3) Determine your investment. (4) Determine what you're benchmarking against. (5) Define your metrics. (6) Pick a tool to measure success (only once you've done  #1-5!) (7) Analyze results, take action, repeat.
One of the best lines: [Traditional print] "impressions" are like guys on a construction site leering at a pretty girl. The value in Facebook is not the number of "likes" but that people can reach you and communicate with you.
This year more than others, I hesitated to commit to the conference. With work and school, could I afford the time off? Could I afford the money it would cost? Would it be worth both time and money?
The verdict is in: it was worth it.
More highlights coming in part 2.
Interested in my past IABC World Conference experiences?
Toronto 2010
San Francisco 2009
New York 2008