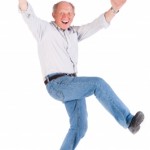 I love reading the expressive ways people find to make a point. Here are my latest finds:
"But even links that have nothing to do with Chinese cooking can bolster your profile if your site is barnacled with enough of them." From a story on search optimization and JC Penney in the New York Times.
"Like a knife, which can be used to kill a person or create a gourmet meal, tools like GScraper can be seen as "good" or "evil" depending on how they are used." From an article on spam comments called "The grubby world of comment spam."
"Using lots of Latin-based words makes your ego think you're one smart something, but it has the emotional power of a vacuum instruction manual." In a blog post called "If people feel nothing, they do nothing" by Anna Rydne at Communicate Your Skills, referring to tips from Mars Dorian.
Referring to a complicated test for a breast cancer gene mutation: "It's like trying to find a spelling mistake in the Vancouver and Toronto phone books." From an article in Canadian Living called "Choosing a mastectomy before a cancer diagnosis" by Jennifer Power Scott.
"The magazine famous for its university rankings didn't so much kick a hornet's nest as bury its honey-smeared face in it." From a column in the Globe and Mail by Mark Schatzker called "Why we need best restaurant lists – and why they make us angry."
"It's not unusual for people to stumble on words borrowed from other languages. In this regard, French is especially treacherous in which about a quarter of the letters sit idle as if on strike, adding little to the pronunciation." From A.Word.a.Day's entry on "corps."
What gems have you seen lately?
Image: "photostock" and FreeDigitalPhotos.net.