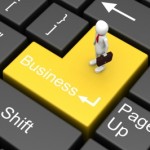 If you know all about starting your own business, specifically a writing business, my friend and fellow writer Marnie Hughes at Communication Artistry wants to talk to you.
Marnie is well into the 16-week "Write Your Book Already!" group started by Chris Brogan; her book is for people who want to start a writing business. Along with details on what's involved in doing that, she's including stories and tips from other writers. Here is what I shared with Marnie:
1. Getting started
This is like the thought behind Chris Brogan's course; also how I felt thinking about having a baby. And it took me a year of thinking about leaving my (safe) full-time corporate job before I finally launched my own business. But if you wait until conditions are perfect and you're ready, really ready, it will never happen.
If you've been wanting to start a business, dreaming of starting a business, Start Your Business Already. What steps can you take every day to move closer to your goal? Get a business card printed? Start working on a website? Polish your LinkedIn profile? Take 10 or 20 or 30 minutes every day and do them.
2. Discipline/time management
You do need discipline, especially if you're the kind of person who gets sidetracked by the television or hears the fridge calling your name at all hours. I am generally at my desk about 8:30 a.m. and work to about 5:30 p.m., with time off at lunch to walk the dog and eat. If no deadlines are looming, I may run a few errands then, too. But generally, each work day is a work day. And I only visit the fridge at lunch. Okay, I might have a cup of tea in the afternoon.
The web is really the most dangerous place to lose all kinds of time. You follow an interesting link or two, post something on all the various social media networks, and next thing you know, an hour has flown past. Deadlines really focus the mind, but otherwise — here's that word again — you have to be disciplined. Dipping into the online world a couple of times of day and setting up notifications when your name or business name is mentioned will help you stay on top of things.
3. Finances
Very definitely, get an accountant! What I also do is track my expenses in a spreadsheet by year. As I enter them, usually about once a week, I clip the physical receipts together by category and file them in the year's folder. That way, I don't end up with a shoebox full of uncategorized receipts and no idea what I spent and where, and it's easy to pull together a summary for the accountant.
4. Marketing

Some people will say otherwise, but I think you still need a business card to use for networking. Cheap and plain is fine, as long as it has your name, phone number and email address. If cheap embarrasses you, say your real cards are being printed.
Get a website. The first place people expect to find you is online, and if you aren't there, you might as well not exist. You also won't look like a serious professional without one. Plus, it will be difficult to get your name to come up in the first few pages of a web search without it. Here again, if you wait until all conditions are perfect, you'll never get your website up and running. I delayed my own site for some time, hung up on the need for perfection — I'm a writer! the words have to be perfect! Let those feelings go. Get something online. You'll have plenty of time to tinker with the words after.
5. Networking and building relationships
Networking IS building relationships. Forget spraying a room with your business cards. Instead, you're thoughtfully handing one over as you talk to an individual. Forget crafting an elevator speech that describes how wonderful you are. If asked what you do, explain it in terms of the people you help and how you do that. Network to meet people, with a sincere desire to know more about them. Find out what you have in common. Figure out if you can make an introduction to someone else, a hallmark of Donna Messer, Networking Queen. Ask to connect on LinkedIn, but don't make that an excuse to start bombarding your new pal with messages that will be seen as spam.
If you're a writer, what other advice do you have for budding entrepreneurs starting a writing business? If you're thinking about launching a business, what's holding you back?
Image: "renjith krishnan" and FreeDigitalPhotos.net.