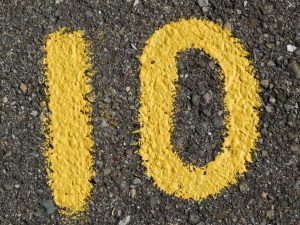 Is it just me, or do you find it astonishing that the first half of the year has hurtled past? If it's July, then, it's past time for my usual look back at the 10 most-viewed blog posts of the year.
While the pandemic dominated the blog and our lives in 2020, I may have tired of writing about it as a recurring topic. You probably tired of reading about it, too. There may be a connection to the lack of "pandemic posts" in this year's top 10:
1. The post that got the most traffic was a look at the use of personal pronouns, inspired by someone questioning the value of using them. In He/she/they: Here's why it's actually kind to share your personal pronouns, I share the thinking about why. Bottom line: It's more inclusive and respectful. Also, it's not about you.
2. In Let's not let others be treated as 'less than,' I talk about the disturbing rise in hate crimes and Canada's residential "schools." I don't have any answers, but quite like the advice to "Be examples of love and compassion."
3. My own blogging anniversary (#14) in January inspired me to collect current thinking about the value of blogs. In This question comes up every year: Is blogging dead? (spoiler) I reveal that it's still very much alive in 2021.
As I like to say, words are my business, so I often discuss words and how to use them. These were among the most-read posts:
4. Sesame Street isn't just a show for children; its writers aim to reach adults, too. Find out how they do it in 7 writing tips we can learn from Sesame Street.
5. My "secret" for turning a potentially boring subject into an interesting read: Find the human. Learn more about the questions that can help you tease out the human angle in Find the heart of your story with (many) questions.
6. When you have something to write, do you focus and get it done? If you've got lots to write but little time to do it, you might like to read 10 tips to speed up your writing. My favourite is probably using placeholders ("Clever opening" or "another word for…") to let you skip past an area that's bogging you down.
7. Grammar nerds celebrate a special day on March 4, which represents a complete and grammatically correct sentence: March forth. To mark the occasion, I look at the use and misuse of apostrophes in Wave your grammar nerd flag for National Grammar Day.
8. The English language is always changing. Never mind the new words, though. A university in Michigan invites people to vote for old words that should get more use. Frankly, I don't agree with most of this year's suggestions. See them in Are these words worth retrieving from the 'linguistic cellar?'
I also like to summarize interesting events, and two that readers particularly responded to were for IABC's Professional Independent Communicators:
9. It can be daunting to take over a role from a well-known person. Read the JourneyWoman story in Magic happens when those 'big shoes to fill' turn out to be your size.
10. What stops you in your tracks when thumbing through social media? Chances are it's video. Find out how to jump into video yourself in 'Stop the scroll' with DIY video in just 6 steps.
As always, thank you for taking the time to read the Red Jacket Diaries. Enjoy the rest of your summer.
Related reading:
The top 10 halfway through 2020
The top 10 halfway through 2019 (remember the good old days?)
The top 10 halfway through 2018
Number 10 image from Pixabay.