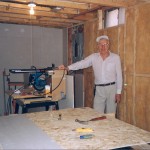 My father — Grant Cunningham — was always the go-to guy for anything that needed fixing. His day job for more than 30 years was with Bell Canada (which he always called "Mother Bell"), but on the side he fixed stuff.
In his prime, he built a deck, installed deck lights, added telephone outlets, hung wallpaper (not that he enjoyed it!), turned a short, unused hallway into a pantry, refinished a basement and more — and that's just in my house! He fixed things I didn't know needed fixing. He fixed things you wouldn't think COULD be fixed, but his grandsons asked him to and he did. That's why they called him "Mr. Fix."
Ah, those grandsons.
With his own children, Dad was probably typical for men of his generation —  somewhat stern, serious, absent. I knew he loved me, but I don't remember him expressing it much until my sons came along. Grandchildren allowed him to show affection and even emotion with all of us, and in recent years, he was thrilled that they would make an effort to come for family dinners with him. Add the "granddog" to the mix, and he became a gentler, more demonstrative guy.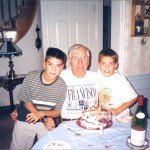 We used to joke that Dad was the "old dog learning new tricks" — as long as they were his kind of tricks, related to computers or wine. He never did get the hang of buying flowers for Mom. The frugal Scot in him would wonder why you would spend money on something that wasn't going to last a week anyway. Never mind that you could say the same thing about a bottle of wine.
Dad had a corny se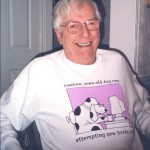 nse of humour, and he was forever pulling out bad puns we called "Grantisms." Sometimes they were such a stretch, you couldn't figure out what he was getting at. "If I have to explain it, never mind," he'd say.
Looking back, I have to say that getting hip replacements was the beginning of a gradual deterioration. Part of it was his own stubborn fault. He refused to get out and walk, admittedly painful but said to be the best way to recuperate. He wouldn't use a cane even in his early eighties, of course; people might think he was old!
He had always worn thick glasses, but his eyesight began failing even more, and eventually he was diagnosed with macular degeneration. His hearing deteriorated, and hearing aids seemed to boost noise rather than voices. I don't know if losing my brother played a part, but not long afterwards, we noticed that Dad was becoming confused and forgetful.
The ultimate betrayal was when he tried to fix something, and couldn't do it.
The end came awfully quickly. A week ago Sunday, we brought him to the hospital because he was having difficulty breathing. He was diagnosed with pneumonia and put on antibiotics. By Friday, his kidneys were failing and he was "unresponsive." He died Saturday morning.
I can be grateful that at 88, Dad had lived a pretty long life. I'm happy that my parents lived right around the corner for much of my sons' lives; the granddog and I dropped in every day. Dad was frustrated at not being able to see or hear or FIX any more, and he would not have wanted to live like that.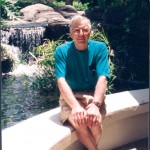 Still. Miss you already, Dad.
If you'd like to do something in my father's name, Mom and I welcome any contributions you might like to make to the Canadian Cancer Society or the American Cancer Society (earmarked for colon cancer research) or Colorectal Cancer Canada. Or share your memories and remembered Grantisms on the Montreal Gazette's online guest book. Thank you — and hug a father.