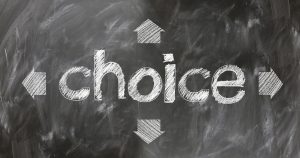 I'm on Plain Language duty.
While my client overhauls structure and cuts duplication on the website, I'm trying to make the content more readable. The existing words are often off the readable charts – post-graduate, say, or grade 13 – whereas my client hopes for grades 6 to 9.
Problem: The industry is complicated, and there's a lot of legal wording and governmentese. Still, lots can be done:
Cut out needless words. "Now" instead of "At this point in time."
Pick short words over long, familiar over unfamiliar. "About" instead of "Approximately."
Use the active voice. "Send your complaints," not "Complaints should be submitted."
Shorten sentences. An average of 14 words per sentence results in up to 90% understanding, says the American Press Institute.
Use bullets to break up lengthy or confusing sections.
The Hemingway app is my partner in crime. I plug in the existing words, and the app helpfully lights up the danger zones in red. As I edit, I can see the readability score improve.
The most effective tactics? Using shorter, more familiar words and shorter sentences. Here are some of the words I've run into and replacements that might make the wording easier to read: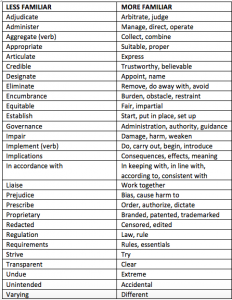 There were a few others I wasn't quite sure what to do with: accountable (is responsible any better?); traceable (trackable?); prescriptive (setting rules?); and responsibilities (duties?). If you have any suggestions for these or any of the words on the chart, I'd love to hear them.
Image by Gerd Altmann from Pixabay.
Related reading:
Think plain to make complex writing (like terms and conditions) more readable
How to block the three biggest crimes against plain language
Lose the legalese to be understood