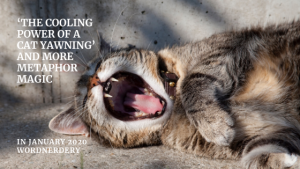 In a world where skimming and snacking is our default way of operating, vivid images can be an express trip to understanding.
Metaphors are magic when you want to explain something complicated, give an idea of size, make a point memorably – or just make someone smile.
"Metaphors are wonderful for helping us express ideas in vivid and highly memorable pictures, so that we understand and internalise concepts more creatively and effectively," explains Science World.  Metaphors "make the strange seem familiar," says Roy Peter Clark in HELP! For Writers.
Metaphors show how two things are alike, without actually using the word like. The January issue of my newsletter, Wordnerdery, includes a selection of examples I've stumbled upon, including this:
"It must have been a thousand degrees and his air conditioning had the equivalent cooling power of a cat yawning." – Taffy Brodesser-Akner, Fleishman Is In Trouble
What great metaphors have you spotted? Please share in the comments. I'm always looking for interesting examples.
Wordnerdery is a quick read about words, effective/expressive writing, newsletters and more. Are you a subscriber yet? If yes, thanks for reading! If not, you can sign up right now. In keeping with Canada's anti-spam laws and just plain good manners, you can easily unsubscribe any time.