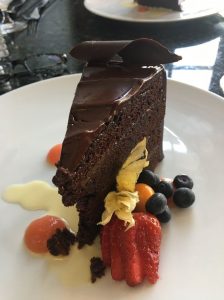 Having been in a home office for years, I thought this WFH (work from home) thing would be a piece of cake. Turns out, I'm as likely to be stress-eating cake as much as the next person.
Projects I had on the go are on the back burner. I'm spending far too long scrolling through bad news. I miss hugs from Mom and my sons, meeting people for dinner (that cake is from one of my last real outings at the beginning of March), going out to live music and theatre shows, planning trips and adventures.
Thank goodness people are sharing the funny. We may be making our way through a pandemic, but there are corners where you can laugh. Here are some of them:
1. The Literary Hub (Jessie Gaynor) shares opening lines of classic novels rewritten for the pandemic. Examples:
*  The Hobbit – "In a hole in the ground there lived a hobbit. He planned to stay there indefinitely in order not to make the lives of essential healthcare personnel more perilous."
*  Pride and Prejudice – "It is a truth universally acknowledged, that a single man in possession of a good fortune, must be hoarding toilet paper."
2. Of course, then came closing lines of classic novels, including:
*  The Great Gatsby – "So we beat on, fists against the window, borne back ceaselessly into the house."
*  The Adventures of Huckleberry Finn – "But I reckon I got to light out for the backyard ahead of the rest, because Aunt Sally says she's going to make me a colorful chore chart and set a daily limit on Disney+ and I can't stand it. I been there before."
3. UK rugby commentator and journalist Nick Heath is currently "staring at an empty sport/work diary." He's filling the void by turning everyday life into narrated events on social media. Have a laugh at pigeon dressage, the Look a Bit Dodgy Solo and the National Championships Spaniel Speedway.
4. Toronto marketing and advertising firm Fuse Marketing Group put a pandemic spin on famous taglines to urge people to stay home. Examples include "Toyota: Let's not go places" and "Virginia is for later."
5. The J. Paul Getty Museum in Los Angeles challenged art fans to post photos of themselves recreating their favorite works of art from the safety of their homes, to hilarious effect. Participants were asked make their masterpieces using everyday household items and did so, with Play-Doh, pets and even pancakes. To help get people's artistic juices flowing, the Getty published a helpful guide offering tips on how to choose your artwork and stage it.
6. Tired of being on Zoom calls and seeing co-workers with fancy offices? BoredPanda shares the results of Twitter user Jules Forrest posting a request to see the unglamourous edition of WFH workspaces. (Hers is a chair at a clothes hamper desk in front of the front door.) The "fluffy desk" cracked me up.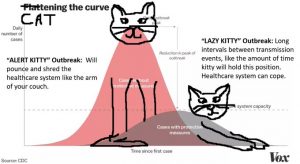 7. Then there's the tweet by epidemiologist Dr. Anne Marie Darling, who says "if there is one thing I have learned from being on the internet, it is this: Data/graphs: Not compelling to many. Kitties: Compelling to many." Thus we have the famous "flatten the curve" chart turned into "catten the curve."
8. Finally, I'll leave you with actor John Krasinski, sharing #SomeGoodNews and heartwarming stories, including a touching conversation with his office co-star, Steve Carell. Watch for the end where John stands up.
I hope you enjoyed this round of laughs. If you're game, I'll keep track of more so please share any other funnies you run across.
More on our new pandemic reality:
Advice for working from home
Jargon and medicalspeak that needs explanation