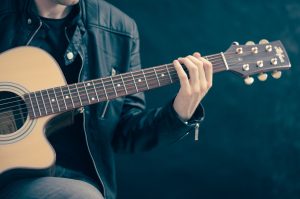 Music is keeping a lot of us going during these days of social isolation and physical distancing. Without live music performances possible, I'm grateful to #CanadaPerforms, an online program and relief fund by Canada's National Arts Centre.
Through the NAC and Facebook Canada, artists receive $1,000 to have their online performance (from home, of course) broadcast on the NAC Facebook page, and often their own Facebook and Instagram accounts. Artists are also doing their own thing, like Hamilton's Arkells, whose lead singer Max Kerman does a daily 1 p.m. Flatten The Curve Music Class on Instagram (@arkellsmusic). Blue Rodeo also broadcast their 2019 Budweiser Stage show on a Saturday night in March.
So I've been thinking about music, and noticing how there are already a lot of songs appropriate to these days of staying home. Here are just some that came to mind:
All by Myself – Eric Carmen
Don't Stand So Close To Me – The Police
Gimme Shelter – Rolling Stones
Homeward Bound – Simon & Garfunkel
Hope You're Feeling Better – Santana
It's The End of the World As We Know It (And I Feel Fine) – R.E.M.
I Know You're Out There Somewhere – The Moody Blues
I Will Survive – Gloria Gaynor
Miss You – The Rolling Stones
Stay – Rihanna
Stay Away – Nirvana
Stayin' Alive – Bee Gees
Wish You Were Here – Avril Lavigne
Then there are the songs that just need a little tweak to suit the pandemic times:
Always Be Alone – Shawn Mendes
Hold On, We're Staying Home – Drake
I Don't Feel Free – Eric Clapton
I Don't Want To Come Over – Melissa Etheridge
Let's Not Get Physical – Olivia Newton-John
Life is an Empty Highway – Tom Cochrane
No Feet Out The Door – Arkells
Not Out in the Street – Bruce Springsteen
Off The Road Again – Willie Nelson
See You Some Other Night – Scotty McCreery
Staying Off a Jet Plane – Peter, Paul and Mary
Try (and Stay Home) – Blue Rodeo
We Can Work At Home – Stevie Wonder
We Gotta Stay in This Place – The Animals
What's Not Goin' On – Marvin Gaye
When I Come Around (Don't Let Me In) – Green Day
Those are my suggestions for "songs in the key of COVID-19" (with apologies to Stevie Wonder and his Songs in The Key of Life). What are yours, both (1) appropriate as is and (2) with a slight change of wording? Please share in the comments.
Guitar image by William Iven and Pixabay.